Review #1: Mel's Country Cafe - Tomball, Texas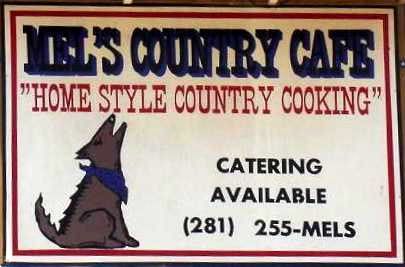 Without question - my first ever TexasBurgerGuy Burger Joint review is going to be on none other than Mel's Country Cafe in Tomball, Texas. Mel's is without a doubt my favorite burger these days. I felt it was appropriate to begin with Mel's because it will in fact by the standard by which I will compare the others.

IMPORTANT: If you haven't already – please read the Texas Burger Guy terminology post at: http://texasburgerguy.blogspot.com/2004/12/important-texasburgerguy-terminology.html. That will help you understand this review.

Mel's Burger Review
In a word – SHAZAM! Once you bite into the big juicy Mel's Burger – you'll want to stand on the table and yell that very word. I might be overstating it just a tad bit – but suffice it to say the Mel's Burger is… GREAT.




Click to enlarge



Click to enlarge

Oooze Factor
Oh man the oooze. This burger will most certainly expose you to the sweet nectar that is oooze. I am not sure if Mel's is using some sort of slow cooking method or if he has a syringe that he uses to inject his burgers with oooze – but he has a juicy burger. The burger comes in a cute little plastic basket thingy and it will be lined with paper. After the burger is gone – the paper will be wet. The juices in this burger make it great. It is moist – but not mushy – oily – but not greasy to the point of needing to shave your tongue after you eat.
Oooze Factor Rating: 8

Herd Killer
I don't have a menu right in front of me to tell you the exact weight of the burger – but I think the standard weight of a burger at Mel's is ½ pound. The patties are thick and always homemade. When you take your first bite – do yourself a favor and admire the inner workings of the patty. You'll come face to face with oooze and you'll see a big chunk of meat. The regular Mel's burger is a medium on the herd killer. Mel's flagship burger is it's Mega Mel's Burger. This thing is approaching bovine armageddon status! This thing has 6 – count em' – SIX patties totaling 1 1/2 pounds of beef - a friggin' pound of bacon – ¼ pound of cheese – all the vegetables – and a half off coupon for a defibulator. If you can eat this bad boy in under 2 hours and not "return any of the food for a refund" during that time – you get your name written on the Mel's Wall of Fame and you will be forever the envy of binge eaters everywhere! One guy at this monstocity in 9 minutes!!! I bet that dude had a real bad case of something that night. Yowser!
Regular Mel's Burger Herd Killer Rating: 5
(Mega Mel's Burger Herd Killer Rating: 9!!)

Handling
The Mel's Burger is not one that can be eaten with one hand only. It is most definitely a two handed burger. That is – if you have normal size hands like I do. If you are an NBA basketball player and can palm a Yugo – you can probably handle this burger with one hand. For the rest of us – better use both hands.
Mel's Burger Handing Rating: 6

Bling Bling
When evaluating cost – you have to consider the amount of food you are getting. Mel's delivers a pretty hefty amount of food and only charges 3.95 for its burger. If you add on some fries and a coke – adding tip it comes out to about 7 or 8 bucks. Definitely worth every penny.
Bling Bling rating: 4
Overall Mel's Burger Rating: 8

Restaurant Review
Mel's Menu
Mel's has all that you would expect on their menu from a mom and pop restaurant. They have good ol' all you can eat catfish and popcorn shrimp on Friday night's which is awesome. They also have a mean chicken fried steak. Mrs TexasBurgerGuy has ordered their chicken sandwich and had enough to take home and eat for 2 more meals. Definetly try the onion rings. Be warned they might as well roll out the onion rings in a wheel barrel as they give you a TON of them. The fries are just good – nothing to write home about. I have never made it to dessert so can't help you there – but I am sure they have some and am also sure it is good. Their vegetables are very good. All in all – you won't find better country cooking in Houston.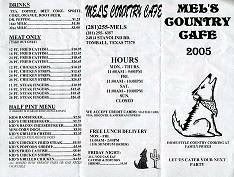 Front
Click to enlarge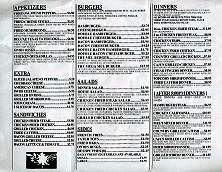 Back
Click to enlarge

Restaurant/Atmosphere
Mel's is your typical mom and pop restaurant. It is plain as the color white. Nothing fancy. Tables are normal. Chairs are normal. The lighting is nothing special. The decorations are pretty plain – except for the wall of fame – that is something you don't see every day. All in all – it is clean. The restrooms are clean.




Click to enlarge

Directions
This is quite possibly the hardest location to find on planet earth. I bet the guy that found the Titanic would take weeks to find Mel's without directions. Pretty much the only way to locate it is to know somebody that has been there.

Address/Phone:
24814 Stanolin Rd
Tomball, TX 77375
281.255.6357

Map: Map to Mel's


TBG Overall Rating
Mel's is one of my favorite if not my all time favorite burger joint. It has everything that I need to feel right at home. It has the friendly waitstaff – the ordinary building – the "froofy free" menu – and absolutely incredible food.
Overall TBG Rating for Mel's Country Cafe: 9

Other Reviews of Mel's:
http://www.countrystyletx.com/025/025_mels.html
http://www.b4-u-eat.com/houston/restaurants/reviews/rsv2884.asp