Review #29: Ray's Drive In - Lufkin, Texas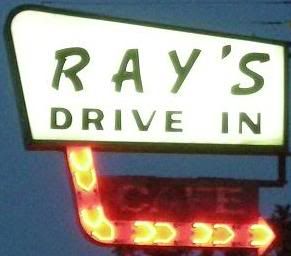 On a rare visit to east Texas a while back, I found myself starving for that precious cuisine that inspired me to start this website.... the mom and pop burger. A colleague of mine knew that I was going to be in the vicinity of her hometown in Lufkin and strongly encouraged me to try out Ray's Drive In. I had also received eight emails from readers encouraging the same. When I drove by Ray's, I was immediately impressed by the drive in. You don't see many drive ins like this that don't have a Sonic sign out front. And Ray's was a busy drive in too... another good sign. Immediately upon walking inside Ray's I was greated with another good sign... lots of locals seated in very plain - non-flairy booths. It was late in the day and I was starving for a good greasy burger. Would Ray's deliver or fall flat? Would I be glad I ate here instead of grabbing a cardboard burger at Micky D's? There was only way to find out... order up!!
IMPORTANT: If you haven't already, please read the Texas Burger Guy terminology post. That will help you understand the terminology I use in this review.

Ray's Cheeseburger Review
Having reviewed 29 burger joints now and having eaten at way more than that... I'm discovering that another litmus test that can be applied to determine if a burger joint will be good or not is if they are utilizing a huge wall size Coke or Dr Pepper menu with the snap in letters/numbers. Seems like everytime a place is using one of those things their burgers turn out awesome. Ray's uses one of these style menus. After wading through the long list of items, I decided to stick with the cheeseburger for this review. As usual, I ordered the onion rings and fries to get a taste of both for the review.

After placing my order with the waitress and paying at the counter, I took my paper number and gazed around the dining area of Ray's to find a seat. As I settled into my yellow booth, I noticed several locals that walked in and ordered the usual. This sight only added to my anticipation of eating my very own Ray's Cheeseburger.

A few minutes later and the highly anticipated moment had finally arrived... they called my number. As I walked up to the counter to retrieve my little red plastic tray carrying the food I so longed for, I couldn't help but wonder if I had just met the burger that would dethrone the Boondock's monster as my number 1 burger of all time.

Here is how I see the Ray's Drive In Cheeseburger ranking in the TBG categories:


Oooze Factor
At first glance, I could tell the Ray's Cheeseburger would rank high in the Oooze Factor category. The white paper they had wrapped it with was turning transparent from all of the oooze seaping through the paper. Thinking it odd for me to tear into a wrapped burger, I controlled myself long enough to unwrap the burger and take a look at this beauty. Much to my pleasure, the burger was ooozier than I expected. My first bite confirmed what my eyes were telling me... this was one ooozy burger. Overall - a good healthy oooze factor score.
Oooze Factor Rating: 9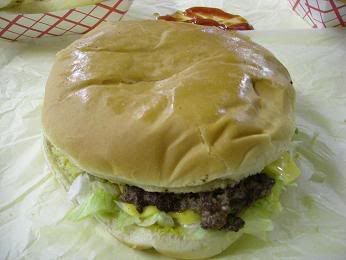 Click to enlarge

Herd Killer
This burger wouldn't exactly strike fear in the heart of a cow. I have had plenty of average size burgers that were awesome. Ray's was good, but it wasn't the best one I had before. The seasoning on the burger was a little heavy with pepper for my taste. It may have just been an overzealous pepper shaker in the kitchen that did it, but pepper was a little too dominant a flavor for my taste. The mustard and vegetables on the burger definitely created a very good flavor. I just wish they had added a little more meat and had seasoned it differently.
Herd Killer Rating: 6



Click to enlarge

Handling
While not huge, the Ray's burger is not to be eaten with just one hand. They put this burger in front of you with a good size bun as well. You can try one hand but you'd get it all over you... better to use at least one and a half hands.
Handling Rating: 7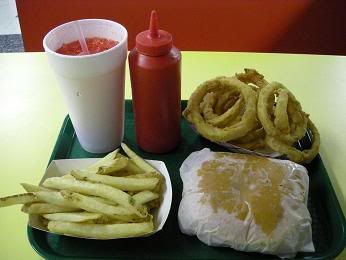 Click to enlarge

Bling Bling
I didn't feel ripped off at Ray's. I went in there with an appetite and left with a full belly for reasonable amount for fries, onion rings, drink and 1/2 pound burger. I was very sastisfied with the value.
Bling Bling Rating: 8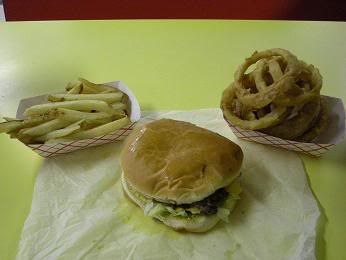 Click to enlarge
Gravedigger
While I didn't make a call to my attorney to make sure my will was updated, I did feel like eating one of these burgers every week would chop a few months off my life. The oooze alone was enough to make me worry... but I'm not losing sleep.
Gravedigger Rating: 7 Shovels







Overall - I was happy with my visit at Ray's. The food was really good... the atmosphere was awesome and the side items were great. I probably enjoyed the atmosphere more than anything else. You really don't see the old fashioned drive ins being used very much. It was a pleasant departure from the usual format. My recommendation is if you are in Lufkin and looking for a good burger that will fill your belly and make you glad you stopped in... go to Ray's. You'll be glad you did.
Overall Ray's Cheeseburger Rating: 7
Restaurant Review
Not to focus on it too much, but the thing that makes Ray's unique is the atmosphere. When the waitresses are splitting duties between helping people inside the restaurant and the people parked in the stalls... well that's just cool. The huge menu that greats you is a welcome site. If I had the opportunity, I'd try some of the specialty burgers listed on the menu. There was a Ray's special which you know is good.

The other menu items I tried... the onion rings and the fries were both very good. The onion rings were the dry - fried variety versus the soft and greasy type. They were good but I prefer the soft and chewy ones. The fries were natural cut which was great. Good flavor on both items.

Restaurant/Atmosphere
Without question, the lasting memory I'll have of Ray's is the atmosphere... both inside and out. Inside you'll find lots of the classic style booths. In addition to the many booths, there are several tables. This place has to be a place that locals hang out in the morning to solve all the world's problems. It has a cozy feel to it. It was obvious that Ray's had been in this place for a long time and judging from the amount of business... it didn't look like they were going anywhere for a time to come.

The waitstaff was very helpful and polite. I think I freaked out one of the waitresses when I took my pictures for the review. Sorry!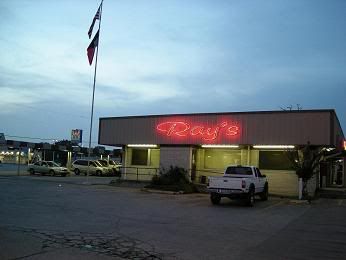 Click to enlarge

Directions
Ray's is located just off Highway 59... or North Timberland if you are a Lufkinite.
Address
420 N Timberland Dr
Lufkin, TX 75901
(936) 634-3262
Map
Ray's Drive In Map

TBG Overall Rating
Ray's provided a great dining experience. There are always things that I would change pretty much everywhere I go... Ray's is no exception. I'd move Ray's closer to Houston so I could eat there more. It's a good place with a long history. If you are ever in Lufkin - stop in and give Ray's a try.
Overall TBG Rating for Ray's Drive In: 7