Mt. Olympus: A 50 Pound Burger!!!!
Just when you think you have seen it all... another burger joint out there decides to join the battle of the bulge and submit a new entry for the biggest and baddest burger in all the land.
Clinton Station Diner in Clinton, New Jersey offers up a monster they call the Mt. Olympus which is a whopping 50 pounds!!!! If your appetite is not up to consuming a 50 pound burger - they offer up smaller burgers for smaller appetites. The Zeus is 7 pounds... Atlas is a tiny 3 pounder... Hercules weighs in at 2 pounds... and finally the Clinton Station Diner Happy Meal Achilles which is a 1 pound burger. Talk about herd killers... calves having sleepovers together must stay up and tell scary stories about this place.
Anyway.. here are the pictures and a link to the Clinton Diner site...
The 50 pound Olympus burger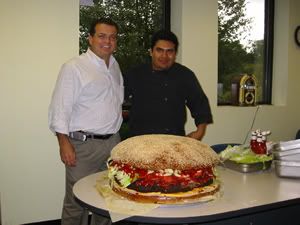 7 pound Zeus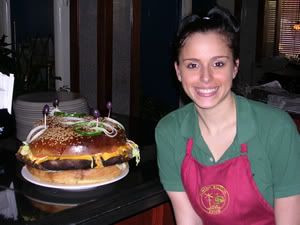 All the burgers together
Clinton Diner's Website:
http://www.clintonstationdiner.com/
This story was submitted by: Frank of the
International Brotherhood of Sammichmen