Review #18: Texas Hamburger Palace - Houston, Texas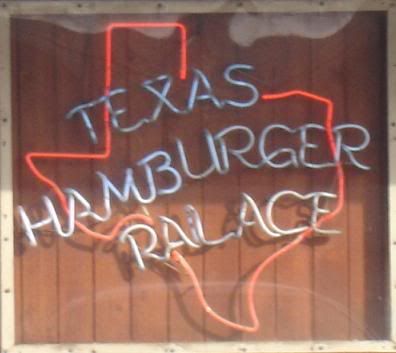 My second burger joint since my sabbatical had to be one that I had been hearing so much about but just hadn't made it out there yet. Actually... that isn't 100% accurate. I did load up the family and head out to Texas Hamburger Palace once before but we got there after they had closed. Sadly, we had to leave that time but it was with much happiness and celebration that we found the Palace open this time... From the outside the Palace looks exactly like a burger joint I would like. Its not fancy and the inside had wood walls and floors.... by all accounts this looked to be a great burger experience.
IMPORTANT: If you haven't already, please read the Texas Burger Guy terminology post. That will help you understand the terminology I use in this review.

Texas Hamburger Palace Cheeseburger
Texas Hamburger Palace certainly has the look and feel of a TBG certified burger joint... but only one thing could prove it was the real deal.. I needed to sink my teeth into a big heart killer of a burger. Well after ordering mine and waiting a short time... my burger arrived at my table and I was VERY pleased with what I saw... greasy greasy fries and a nice looking burger... only one thing needed to be done... it's eatin' time!!!! This is how I see the Texas Hamburger Palace Cheeseburger ranking in the TexasBurgerGuy categories:

Oooze Factor
I am discovering that I have very high standards for oooze. A burger just flat out has to be slipping and sliding around the plate and the paper it comes in needs to be transparent from all the grease for me to be happy. Regarding the Palace burger.. lets just say this... when I am asked where the greasiest burger is.. Palace will not come to mind. It was not overly greasy but it was not dry either. I'm giving it a 5 because it was just about middle of the road when compared to other greasier burgers I have had.
Oooze Factor Rating: 5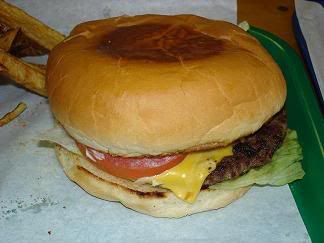 Click to enlarge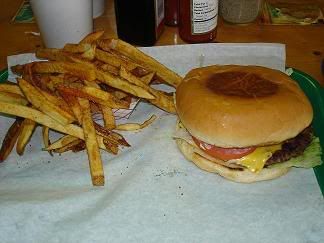 Click to enlarge

Herd Killer
The Texas Hamburger Palace Cheeseburger was a good sized burger. It was enough to fill me up pretty good but it wasn't enough to just keel me over in pain from my stomach being so full either. Again - about a middle of the road burger... Taste wise it was very good. Good fresh vegetables and a good meat patty on it...
Herd Killer Rating: 6

Handling
The Texas Hamburger Palace Cheeseburger was a pretty good sized burger. It isn't the small Roznovsky's burger but it wasn't a Call my Cardiologist sized burger either... just a good sized burger. My daughter would have trouble handling this thing - but I did not.
Handling Rating: 5

Bling Bling
I don't have the exact price written down for the Palace Cheeseburger but it was a good value. I didn't leave their hungry and I didn't feel ripped off....
Bling Bling Rating: 7

Overall Texas Hamburger Palace Cheeseburger Rating: 6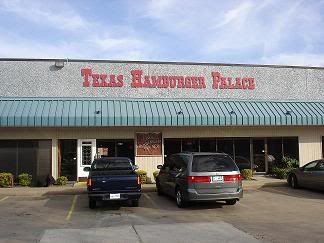 Click to enlarge

Restaurant Review
The Texas Hamburger Palace was the second burger joint located in an industrial area that I have reviewed. (TBG Trivia: What was the first?) Anyway - both experiences with these restaurants has been good although I think the Palace had a much more cozy and what I'd call a traditional burger joint atmosphere. There were the wood walls... the video games... there are lots of pictures of random stuff all over... big screen TV and a lot of tables. It is a pretty neat restaurant. Menu was really good as well. Mrs. TBG and TBG's daughter tried some chicken. My wife had the grilled chicken sandwich (see below) and daughter had the chicken fingers ( see below) All in all both were good... not knock your socks off and write home about it good... just good.

Grilled Chicken Sandwich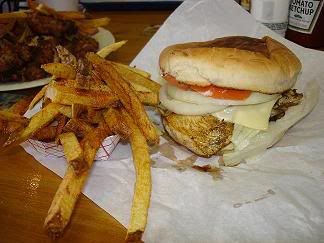 Click to enlarge

Chicken Fingers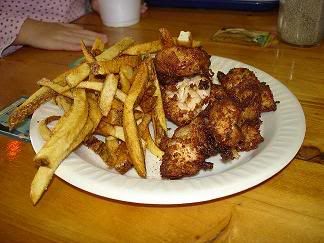 Click to enlarge

Restaurant/Atmosphere
Texas Hamburger Palace is a nice place to eat. They have some strange hours but the waitstaff is very friendly and they go out of their way to help you out. One more story I have to share... as we were preparing to leave.. I smelled one of my favorite smells of all time... bacon. Oh sweet mama there was some bacon cooking going on in this place!!! I had absolutely no idea though. I got back to the counter and there - cooking on the grill was probably 30-40 POUNDS of bacon!!!!! Oh my gosh it was a beautiful thing!!! I should have taken a picture to share but I think I got lost in the moment...
Directions
From I-1o West... Take Beltway 8 South. Exit Harwin. Hang a left on Harwin. You'll come to Ranchester Road. Take a left. Texas Hamburger Palace will be on your right in the industrial park.
Address/Phone:
5757 Ranchester Dr
Houston, TX 77036
713.981.5151
Map: Map to Texas Hamburger Palace

TBG Overall Rating
Pleasant trip to the Texas Hamburger Palace. Very nice place. Nice atmostphere. Good food...
Overall TBG Rating for Texas Hamburger Palace: 7

Other Reviews of Texas Hamburger Palace:
http://www.b4-u-eat.com/houston/restaurants/reviews/rsv2733.asp