Luther Burger and Hamdog Pictures!!!!!
This is actually an update to a story I had posted back in February... see the
Half Burger/Half Hotdog: The Hamdog story
.
You are looking at what could be the only picture of the Luther Burger on the internet!!! It was sent to me from a TBG reader!!! For those that don't know - the Luther Burger is a bacon cheeseburger served on a Krispy Kreme bun. This bad boy is offered up by Mulligan's - a suburban bar in Decatur, Georgia. Click on the picture below to see a really big picture of this mega-artery clogger.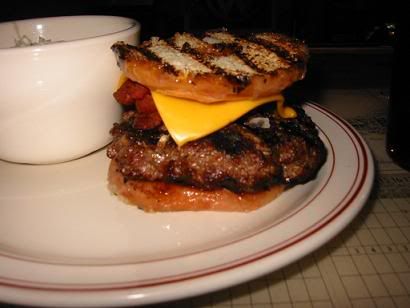 Click to enlarge
The Hamdog is a hot dog wrapped in a beef patty that's deep fried, covered with chili, cheese and onions, and served on a hoagie bun topped with a fried egg and two fistfuls of fries. Aye carumba!! There are some pictures of the Hamdog already floating around the internet. Here is another really awesome picture of this beauty sent in by a TBG reader....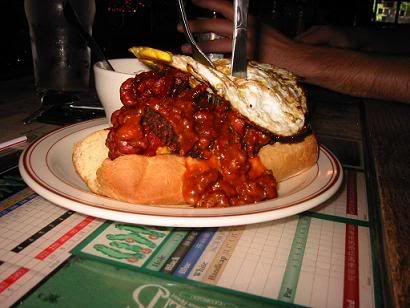 Click to enlarge
MEGA THANKS to Barry from Greenville, SC for sending in these pictures!!!!