Review #11: PO's Burgers - Cypress, Texas
Over the years I have lived in Houston, I have made many a trip to PO's to get my burger fix. It helps that it is only a short 5 minute drive from my house. I almost feel like PO's is my hometown burger joint. Every time I go to PO's - I enjoy the experience. They have good ol' handmade burgers. The restaurant itself is your textbook burger joint complete with picnic tables inside and outside the place. Nothing fancy here - just good company, great atmosphere, and great burgers!!!
IMPORTANT: If you haven't already, please read the Texas Burger Guy terminology post. That will help you understand this review.

PO's Burgers Cheeseburger Review
Mrs. TexasBurgerGuy and I packed up my 4 month old son and made the short trip to PO's this week for a burger experience. Having been to PO's many times before, I tried my best to forget the past experiences and try my best to evaluate PO's as if this were the first time I set foot in the place. I actually ordered a little different than I normally do when I go in there. Usually I will get the 1/4 pound burger. Trying to do something different to make the experience unique in my mind - I ordered the 1/2 pound burger instead. When I went to pick up this baby - I was pleasantly suprised at just the looks of this burger. On the plastic tray - it was sitting next to Mrs. TexasBurgerGuys chicken sandwich and I smiled as I noted how much bigger my burger was than her sandwich. Here is how I see the PO Cheeseburger ranking in the TexasBurgerGuy categories:

Oooze Factor
Do yourself a favor and scroll down just a little and take a look at the picture of the cheeseburger. See the shine coming off the meat? That is oooze my friends. Good stuff too. The wrapper was pretty ooozed - had several greasy spots that only made me more happy about this burger. First bite was awesome too... very greasy, moist, great tasting burger indeed. No dried out no-oooze burger here...
Oooze Factor Rating: 8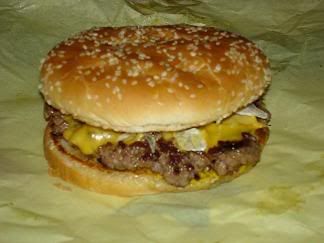 Click to enlarge



Click to enlarge

Herd Killer
PO's 1/2 pounder is one single big meaty patty. They don't do what some other burger joints do and pile on 2 1/4 patties - they just give it all to you in one big patty. I love that. The burger had pretty good flavor. Nothing really fancy about it. Doesn't taste like the marinade their meat in anything or add any special seasonings to it or anything like that. Seems like they just pack down a healthy portion of ground beef and throw her on the grill. While the patty had good flavor - the overall chemistry was a little messed up. I think whoever was running the mayonnaise that day we went was told they could go home after they used up all the mayo or something cause they piled it on. It was a bit much for my taste and it really overpowered the flavor of the meat too. My advice is to ask them to put it on the side or something like that. They also put mustard on the burger as well - so you get the mayo, mustard, vegetables, meat, and bun flavors all mixed together. The chemistry has to be just right and it was a bit off with my burger.
Herd Killer Rating: 7

Handling
Great burger! A 2 hander but not need to ask for help from anybody else to help you with this burger. It is "handleable" by one person only.
Handling Rating: 7

Bling Bling
The burger above was $4.19. I left PO's feeling pretty full - but not $4.19 full. For 4 bucks I better leave there wishing I had ordered a smaller burger. That wasn't the case. PO's does have lunch specials on Monday and Tuesday. On Tuesday, if you buy french fries anda drink - the 1/2 pounder is half off which is a good deal.
Bling Bling Rating: 6

Overall PO's Cheeseburger Rating: 7



Click to enlarge

Restaurant Review
PO's has a great selection on their menu. (see picture below) They have some pretty wild choices when it comes to burgers. For example, you can get yourself an Ostrich, Buffalo, or Turkey burger!!!! I haven't tried either one but I bet they are good. A good friend of mine told me the Hot-Bob is a must have if you like fire in your mouth. They add jalapenos to the meat. He said it was a pretty messy burger. They also have a Veggie burger which in my opinion isn't a burger at all. If it is made of anything but meat - it belongs in the salad section of the menu - not the burger section. We tried the 1/4 pound cheeseburger, grilled chicken sandwich, cajun fries, tator tots, onion rings, and waffle fries. (not all in this one trip) All are good. Tator tots and regular fries are very plain. The cajun fries and o-rings are definitely worth the money. All in all - you won't be disappointed with many menu items at PO's.
Restaurant/Atmosphere
PO's atmosphere is one of your typical mom and pop burger joint. Not many frills and fancy stuff here.. Just plain ol' mom and pop burger joint. They have picnic tables on the porch as you enter. That is a great place to sit when the weather is just right outside. On the inside - you will find more picnic tables as well as some regular tables. Note the full roll of paper towels on each table. I love that. It tells you they know their burgers are greasy and messy and you're gonna need some napkins. There are 2 TV's. One near the bar area and one in the far right part of the restaurant. You got around to the left to order at the counter. The person taking your order will yell out your order so be sure and order your wimpy veggie burger when there is nobody around, k? Overall PO's has a good hometown feel to it. You rub shoulders with the other people in the restuaurant. When PO's is real busy - you might find yourself sharing a picnic table with some new friends. Trust me - you'll enjoy the atmosphere at PO's.
Directions
PO's is pretty easy to find. Exit Telge Road off 290. Follow Telge around for about 2 or 3 miles from 290. PO's will be on your right.
Address/Phone:
12710 Telge Road
Cypress, Texas 77429
281.373.1588

Map: Map to PO's Burgers

TBG Overall Rating
A great hometown atmosphere with friendly waitstaff awaits you at PO's. It is no wonder that I have gone back to PO's so many times over the years. They simply have a great tasting burger in a perfect mom and pop burger joints atmosphere. Do yourself a favor and give PO's a try.
Overall TBG Rating for PO's Hamburgers: 8

Other Reviews of PO's Hamburgers:
None found