Half Burger/Half Hotdog: The Hamdog!!!
Ever wondered how you could end your life and go with a smile on your face? Well Chandler Goffin of Mulligan's Bar in Decatur, Georgia created 'The Hamdog' which is a hot dog wrapped in a beef patty that's deep fried and covered with chili, cheese, and onions served in a hoagie bun. If that wasn't enough to clog your arteries - it is also topped with a fried egg and two fistfuls of fries.
In addition to the Hamdog, Mulligan's also serves up the
Luther Burger which is a bacon-cheeseburger served on a Krispy Kreme doughnut bun!!!!
I am looking for a picture of this bad boy. If ANYBODY has one - send it to me!!!!
If you have sweet tooth, you can try Mulligan's mouth-watering
fried Twinkie
which is a Captain Crunch-coated Twinkie deep-fried and drizzled with raspberry sauce--YYYUMMY!!!!
Here are some pictures of the Mulligan's Hamdog: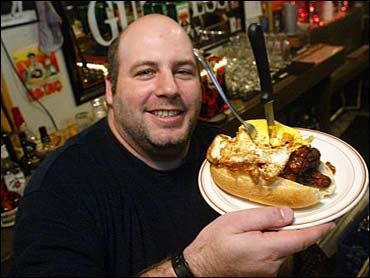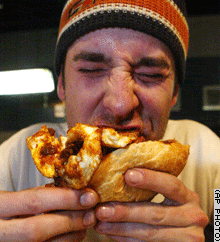 Story Links:
USA Today Story
Dallas Morning News Story
My Way News
This story was submitted by: Tom from Cypress, Texas