Review #9: Sam's Deli Diner - Houston, Texas
This past Saturday - Mrs. TexasBurgerGuy and I were trying to decide what burger joint we wanted to go to. There was one that I wanted to go and check out but I decided instead to go hit a burger joint that was submitted by a reader. I scanned my review requests and found one submitted for Sam's Deli Diner located in west Houston. We made the drive down to Sam's and when it came into site... I got very excited because I knew we had found ourselves a good ol' mom and pop burger joint. Sam's is in a little shopping center. It's a very small place that would be easy to miss had we not been looking for it. As we walked up to the door - we were met with the unmistakable smell of onion rings and other fried goodies. I got really pumped then. That was just the beginning to what became a pretty memorable burger joint experience.
IMPORTANT: If you haven't already, please read the Texas Burger Guy terminology post. That will help you understand this review.

Sam's Deli Diner Cheeseburger Review
Sam's is probably the smallest burger joint I have been to since starting up my site. I was worried that this small burger joint would turn out a small burger. I glanced around at the burgers everybody else had ordered and saw that there was no need to worry. They were not small at all. I confidently ordered a cheeseburger and waited for my order to be ready. We were there at 2 pm on a Saturday and the place was packed. This built up even more anticipation as I realized all of these people would not be crammed in this place for a poor tasting burger. Once my burger was ready and I took my first bite - I realized there was a reason for everybody being there well after the normal lunch hour.
Oooze Factor
When I think of the Sam's Deli Diner Cheeseburger - oooze is not the first thing that comes to mind. What comes to mind are the vegetables and the mustard/mayo combination slapped on the bun. Even though it wasn't really ooozy.. it still was a good juicy burger. The vegetables were fresh - you could tell that the tomatoes and lettuce were store bought vegetables that somebody had sliced up. That gave this burger its good homemade flavor. I didn't feel my heart clogging up while I ate - so I know this one had a lower oooze factor than some of the other burgers I have had the pleasure of eating. Lower oooze factor - but still a tasty burger.
Oooze Factor Rating: 7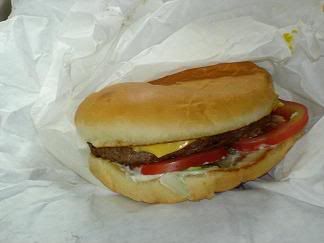 Click to enlarge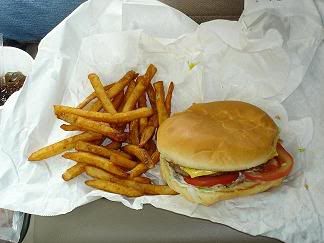 Click to enlarge

Herd Killer
While there was no herd that was killed for this burger - there was plenty of meat on this bad boy to fill me up. I opened up the bun to take a look at the patty and the vegetables. I think that the patty might be a frozen patty as it didn't have that "natural beef" look to it. The cheese also hadn't completely melted on my burger. For me, a good burger has a good beefy patty with cheese completely melted into the meat. Despite the patty being frozen and the cheese not being completely melted - this burger still had very good flavor and left a good impression with me. Overall - not big and beefy - but good and tasty nonetheless.
Herd Killer Rating: 7

Handling
The Cheeseburger was a 1 3/4 to 2 handed burger. It was big - but it wasn't so bulky or awkward that it required 2 full hands to hold it. Still a good sized burger though.
Handling Rating: 7

Bling Bling
After being completely stuffed and satisfied by eating this big Cheeseburger - I went back and checked the price. I was amazed that it was only $2.75!!! I couldn't believe it was so cheap. Not many places can you get a good tasting burger like this one and only have to pay 3 bucks! Definitely a GREAT value!!
Bling Bling Rating: 9

Overall Sam's Deli Diner Cheeseburger Rating: 7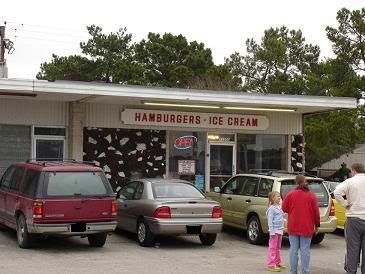 OK - No - these people in front of Sam's are not friends of mine... they just wouldn't move. :) SMILE - you're on TexasBurgerGuy!!!
Click to enlarge

Restaurant Review
Sam's Deli Diner has a pretty substantial selection on the menu. As is usually the case when I take my family with me - we tried out quite a few menu items. Mrs. TexasBurgerGuy ordered the Fish Sandwich (I dunno why). She said it was really good. We also tried the onion rings which were FAB-U-LOUS! Sweet momma they were good!!! We tried the regular fries which were good - but they needed a little doctoring (read salt and ketchup) before they were really good. We also tried the seasoned fries (pictured above) which were really good. I love a good seasoned fry and these hit the spot. Sam's also has Blue Bell ice cream which is an automatic point added to my review. I LOVE Blue Bell ice cream. They even had peppermint which is one of my favorites. Overall - great menu and great food.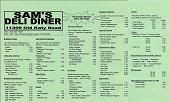 Click to enlarge


Restaurant/Atmosphere
I know I have already mentioned this in the intro to this review but Sam's is a pretty small place. I think I counted about 10 tables total and they are pretty small tables at that. I get a little worried about disturbing people when I take my pictures for the reviews and there were just a lot of people crammed in that place so we elected to get it to go (you may have noticed that the pictures of the burgers were taken on top of the console in my truck). Sam's is nice though - the perfect mom and pop burger joint. It has been in the same building for 20 plus years. My advice if you want to go is to have a park picked out where you can take your food to eat it in case Sam's is experiencing a rush of people like they were the day we were there.


Directions
Sam's is not a place that sticks out. You need to check the map and be looking for it or you'll probably drive right by it.
Address/Phone:
S. Kirkwood & I-10
Houston, TX 77043
281.497.8088

Map: Map to Sam's Deli Diner

TBG Overall Rating
Overall Sam's has a pretty tasty burger. The reader that sent me the request said he grew up going to Sam's as a kid. I suspect that there are lots of people that go there today probably have been going there for years. That is one of the coolest things about mom and pop burger joints. They not only serve up food - but they rekindle some old memories as well. Sam's is a great little place with a good tasting burger. With any luck - Sam's will be there for many years to come.
Overall TBG Rating for Sam's Deli Diner: 8

Other Reviews of Sam's Deli Diner:
CitySearch