Review #5: Lankford's Grocery - Houston, Texas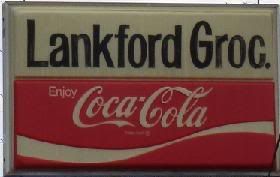 With a name like Lankford's Grocery - I knew this place was going to be a hole in the wall. Well I must say I was not let down. Lankford's most definitely is a dive complete with a floor that drastically slants left as you walk in the door. But - all the character and color of the restaurant itself did not prepare me for the burger I was about to face at Lankfords. On Lankford's menu it reads "We're not fancy, but we are MMMM MMMM good." I don't think I could have said it any better. Lankford's was awesome!
IMPORTANT: If you haven't already, please read the Texas Burger Guy terminology post at: http://texasburgerguy.blogspot.com/2004/12/important-texasburgerguy-terminology.html. That will help you understand this review.

Lankford's Cheeseburger Review
We went to Lankford's during a weekday lunch hour so the place was pretty busy and it took a while for our food to arrive. Once the burger came into sight - I knew I was about to consume a good burger. The burger had a healthy amount of oooze all over it. The size of the pattie also made me pretty interested in the burger as well. It looked like a good greasy, beefy and cheesy burger... boy was I right. All in all a fantastic burger. Here is how I see the Lankford's Cheeseburger ranking in the Texas Burger Guy categories:

Oooze Factor
As soon as my burger came into sight, I could see that it was leaving a sweaty oily stain on the paper it was wrapped in. With great anticipation, I unwrapped this beefy beuty and began to size it up. One of the first things I noticed was the sheen on the bun itself. (see the picture below) Once I bit into this baby - immediately I knew I was eating a burger with a considerable amount of oooze. It was good and juicy. It was not too much, but not even close to being a dry burger. There was a healthy stack of vegetables piled onto the burger that added to the juices coming out of this thing. All in all - great oooze!
Oooze Factor Rating: 8




Click to enlarge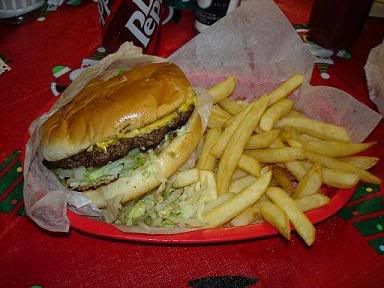 Click to enlarge

Herd Killer
Just take a look for yourself at the picture above and tell me that this isn't a herd killer. I hate to admit this - but this burger almost beat me today. I finished it - but I was hating life for the rest of the day. I wasn't ready to eat another meal until late at night. The patties are very good looking meat. You can tell they are handmade. The best way to describe a Lankford's patty is it tastes exactly like the burgers you would cook up on your own grill. They have that backyard grill taste that makes you want to stand on a table and sing! The Lankford burger completely filled me up - huge herd killer!
Herd Killer Rating: 8

Handling
If you can one hand this thing, good luck at your next game Shaq. This burger is a 2 hander for sure. Just to keep all the vegetables from taking a flying leap from the patty requires 2 hands. Handling Rating: 8

Bling Bling
Believe it or not - that big burger up there was $3.75! For the "roll me outta here" feeling it gave me - I would say the Lankford's Cheeseburger is a great value and therefore high Bling Bling score.
Bling Bling Rating: 9

Overall Lankford's Cheeseburger Rating: 8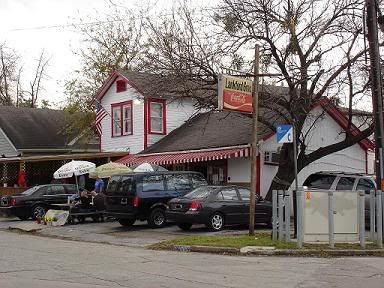 Click to enlarge

Restaurant Review
Lankford's menu had the usual stuff. Burgers, fries, O-rings, chicken stuff, some salads, and some things for the kiddos. They have a pretty tempting breakfast menu as well. Guess I'll have to go back to try that out. We tried the chicken sandwich, grilled cheese, fries, onion rings, and tots. Chicken sandwich was very good. Mrs. TexasBurgerGuy had to take some of it home because it too was pretty big. If you like very greasy onion rings - you will like these. The breading on the O-rings was nothing to get excited about - but again - if you like your onion rings a little loose and greasy - then you will like these. Fries and tots were your average fry and tot.
Restaurant/Atmosphere
This has to be one of the more memorable mom and pops I have been to strictly because of the atmosphere inside Lankford's. This is one of the reasons I don't take pictures of the interior of the restaurants - it simply can not capture the feeling of sitting in a building that is barely standing but serving some wonderful food. Some notables... when you walk in - the 2 tables immediately to your left (tables 14 and 15) are sitting on a downslope. We sat at 14 and were about to fall down the hill. There are tables and a few booths. There is also an outside area to sit and eat too. For me - you have to sit inside where the action is to soke up the atmosphere. Lankford's had the mom and pop signature hand me down look. All the tables and chairs were different. The waitstaff couldn't be nicer. They don't accept credit cards so take a checkbook or some cash. All in all - just being there was a memorable experience for me. But for me the more hole in the wall - the better.
Directions
I could be a jerk and make you search for Lankford's. Unless you are familar with that part of town - you are destined to get lost in the endless maze of streets. Here are the directions from 45N (coming from The Woodlands):
- Exit Pierce/Dallas off 45
- Pass Dallas Street and take the Bagby exit (curves right)
- Turn right on West Gray
- About 1 mile take a left on Gennessee (spelling?)
- Gennessee takes you to Dennis St.
- Lankford's on the left

Address/Phone:
88 Dennis St
Houston Texas 77006
713.522.9555

Map: Lankford's Map

TBG Overall Rating
Overall a very memorable experience. Mrs. TexasBurgerGuy still talks about how good the food was there. The food combined with the unmatched atmosphere and location make Lankford's one of my favorites. I can see now why so many people speak very highly of Lankford's. It really is a one of a kind!
Overall TBG Rating for Lankford's Grocery: 9

Other Reviews of Lankford's Grocery:
http://www.b4-u-eat.com/houston/restaurants/reviews/rsv1965.asp
http://www.digitalcity.com/houston/entertainment/venue.adp?sbid=108966453&type=userreviews