Revew #3: Christian's Totem – Houston, Texas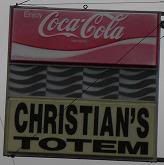 After hearing so many good things about Christian's Totem – I was sure that I would be disappointed once actually trying this place out. There was no way that it could live up to the high expectations that were set. Well… I am happy to report that I was so very wrong. Christian's delivered in a big way as their burger is excellent!! Myself and 2 of my buddies made the trip to Christian's Totem and we were very pleased with the experience!
IMPORTANT: If you haven't already, please read the
TexasBurgerGuy terminology post
. That will help you understand this review.
Christian's Totem Cheeseburger Review
Upon receiving my Christian's Totem Cheeseburger – I was immediately concerned that the patty was going to be dried out and overcooked. After the first bite – those worries quickly went away as I was met with an absolutely incredible tasting burger. Here is how I see the Christian's Totem Cheeseburger ranking in the Texas Burger Guy categories:
Oooze Factor

The burger was by no means a niagra falls level oooze burger. It was pretty light on the oooze although it did make a nice little oil slick on the paper it was wrapped in. (see picture) Despite there not being a lot of "drippage" – the patty is extremely moist and very tender. I was pleasantly surprised on my first bite as I was expecting a very dry patty – but that clearly was not the case. A little light on oooze, but it still had the benefits of a high oooze burger.
Oooze Factor Rating: 6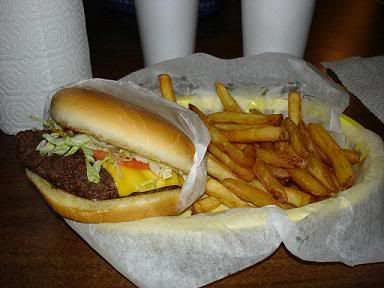 Click to enlarge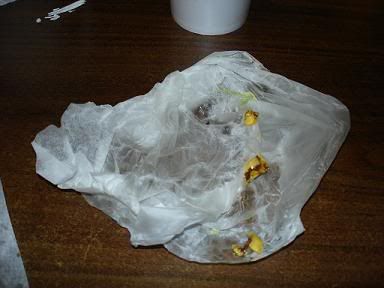 Click to enlarge
Herd Killer
This is one of the categories that the Christian's Totem Cheeseburger will excel. I hate to even put this into print – BUT – the Texas Burger Guy ALMOST couldn't finish the burger. That is what you want if you want a good rating from me. The patty was huge. It was thick and meaty – just the way I like it. The burger had good weight too – not your lightweight cardboard burger you get at fast food places. There was a double meat burger that was offered on the menu. I can't even imagine what kind of appetite it would take to consume that thing… The single meat burger meant business. You can be sure that this burger definitely killed off its share of the herd.
Herd Killer Rating: 8
Handling
Yet another category where the Christian's Totem Cheeseburger will excel. This burger is not a one hander – not even close. You have to put down this thing to take a drink and eat your fries. Even at the end when it is a smaller version of its orginal self – you still need a little support to keep the burger all together. Excellent 2 handed burger!!!
Handling Rating: 8
Bling Bling
Excellent value! I got the cheeseburger in a basket that included fries and a free refill drink. The whole thing was 7 bucks. That is a very reasonable considering the amount of food you receive. For 7 bucks – I left Christian's Totem very full and not even thinking of eating another meal for several hours.
Bling Bling Rating: 8
Overall Christian's Totem Cheeseburger Rating: 8



Click to enlarge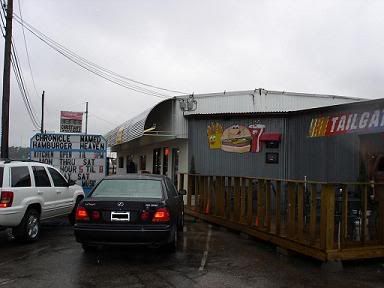 Click to enlarge

Restaurant Review
Christian's Totem had your standard mom and pop menu. They had burgers (duh), fries/onion rings, and fried chicken. One thing that peaked my curioisity was a Chiliburger that was on the menu. I could hear several of the customers in front of me ordering the Chiliburger so one has to assume that it is pretty good for so many people to order it. And as one of my friends that went to Christian's with me said, "How can you go wrong with putting more meat on top of meat?" I couldn't agree more. Besides the burger – we tried the french fries and the onion rings. Both were SPECTACULAR! The fries are seasoned and are just awesome. The onion rings are a MUST! I had my buddy order the onion rings to try them out – next time I am ordering them. I don't have a menu to show you for Christian's – I asked – but the lady behind the counter said they did not have one. Guess you'll just have to go to find out yourself.

Restaurant/Atmosphere
From the outside, Christian's simply screams "I'M A HOLE IN THE WALL BURGER JOINT!!!!". It is a tin building that would be an eyesore to the anti-burger enthusiast. For us though – the place looked like a factory for increbibly good burgers. Parking lot was nearly full when we arrived around lunch. The restaurant has what I am guessing is the original building and an addition that includes pool tables and TVs. The addition is called Christian's Tailgate – the original restaurant is Christian's Totem. They accept credit cards. Smoking tables in the Tailgate area. There is a wood deck outside the Tailgate area where I took the picture below.

Directions
Christian's is pretty easy to find. It is right at the corner of I-10 and Washington. My advice is to get in the far right lane as soon as you turn onto Washington from I-10 because the Christian's driveway will sneak up on you if you don't. Christian's is located where people working off of 290 or the Galleria area and even Greenway Plaza can make it out there for lunch.

Address/Phone:
7340 Washington Ave
Houston Texas 77007
713.864.9744

Map: Map to Christian's Totem

TBG Overall Rating
I had high expectations going into Christian's Totem. I had heard lots of very positive things about it and was really excited going in. I was extremely pleased with the dining experience. Christian's is an EXCELLENT burger joint. It has the look from the outside of a mom and pop. On the inside – it is VERY much a mom and pop. Pretty old tables and chairs. You can tell many a burger has met its fate on these tables. Most importantly – Christian's has an extremely good burger and that is a what it is all about.
Overall TBG Rating for Christian's Totem: 9

Other Reviews of Christian's Totem:
http://www.b4-u-eat.com/houston/restaurants/reviews/rsv2994.asp
http://www.houstonpress.com/issues/2004-01-08/cafe.html