Review #10: Chicken Oil Company - Bryan, Texas

Several weeks ago a good friend of mine told me about this place called Chicken Oil Company in Bryan-College Station. He swore up and down they had the best burger. Ever. Having heard that statement from nearly everybody that tells me about their favorite burger joint - I pretty much ignored it. Well... after having a Chicken Oil Burger today - it is definitely one of the best burgers I have had - but not THE best. Chicken Oil Company not only has a good burger - but it has a one of a kind atmosphere that will make this burger joint stick out in this burger connoisseur's mind for many days to come.
IMPORTANT: If you haven't already, please read the Texas Burger Guy terminology post. That will help you understand this review.

Snuffer's Cheeseburger Review
Four very good friends of mine made the 1+ hour trip to College Station from Houston with me today. I had been looking forward to this roadtrip with my buds for a while. I guess I had been focusing so much on the trip because I hadn't even thought about the burger we were going up there to try out. When my Snuffer's Special Cheeseburger was delivered to me... I quickly remembered why we made the trip. Just looking at the burgers physical attributes - it was clear this burger had size and oooze. It was reasonably priced. All that remained was to try this big burger's taste. After taking my first bite - I quickly understood all the hype about the Chicken Oil Company burger. Here is how I see the Snuffer's Cheeseburger ranking in the TexasBurgerGuy categories:
Oooze Factor
When a burger joint has the word "Oil" in the name of the place - you know their burger has to have some good oooze going on. Well the burger didn't disappoint. It didn't have the oooze of a Mel's Cheeseburger but it had enough oooze to keep the burger moist. I didn't have any oooze running down my arm or anything - but I did have to use a few napkins to clean up after eating this burger. The patty was very tasty. Not a whole lot of oooze... just right.
Oooze Factor Rating: 8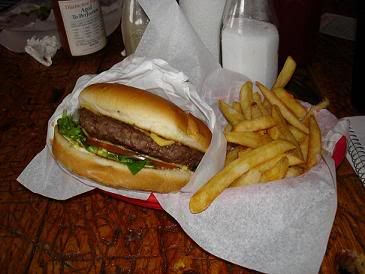 Click to enlarge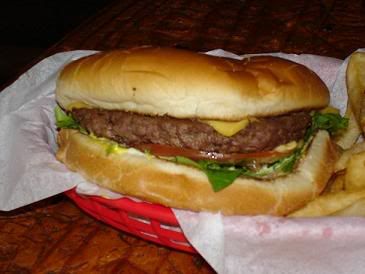 Click to enlarge

Herd Killer
The Snuffer's Special is a 1/2 pound patty. Chicken Oil Company also has a 1/4 pound burger as well as another 1/2 pound burger that has 2 1/4 pound patties. The Snuffer is a 1/2 pounder single patty. The patty on the burger was not a frozen patty by any means. You could see that it was clearly 100% beef and it looked very fresh. They will cook the burger medium if you don't ask for anything special which I think is just about right. If you cooked this more - it would be too dry. Medium is just about right. Overall the patty was very tasty. One thing that Chicken Oil Company does on the Snuffer is they add 2 pieces of cheese!! One on top of the patty and one on the bottom of the patty. Man oh man whoever came up with that idea should be given a raise cause that was AWESOME!! I love cheese and this burger had it going on and then some. The size of the patty was pretty good - not too thick to where the meat doesn't get cooked very well but not too thin to where you miss the flavor. All in all it was just right. Pretty good herd killer rating for the Snuffer.
Herd Killer Rating: 8

Handling
The Snuffer Cheeseburger was a 2 handed burger. It was big but it wasn't so big that you'd have to ask your friend sitting next to you to help you out or anything. But - it is a 2 hander - that is for sure.
Handling Rating: 7

Bling Bling
The Snuffer Cheeseburger Special is what I ordered. It comes with a 1/2 pound burger, fries, and a drink. All of that was about 7 and half bucks. Not too bad considering after I finished it I was pretty dang full. It isn't the value of a Christian's Totem burger where you pay 2 or 3 bucks for a burger that makes you full the rest of the day - but it is still has good bling bling.
Bling Bling Rating: 7

Overall Snuffer's Cheeseburger Rating: 8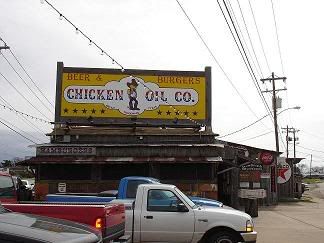 Front
Click to enlarge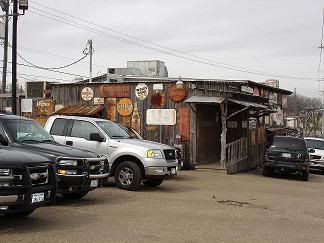 Back
Click to enlarge

Restaurant Review
Chicken Oil Company had the typical menu. They had chicken fried steak, chicken fried chicken, buffalo chicken burgers and a grilled chicken salad that is supposed to be one of the best around. Nobody in my group tried any other things on the menu but the burgers and fries. The fries are the plain variety. Nothing really special. They weren't bad - they just didn't stand out in my mind as being great. We were going to get the Onion Rings - but they were a little pricey for my taste (4 bucks) so we passed. If you're looking for something lighter, try our famous grilled chicken salad – it may be lighter but won't leave you hungry! Every Monday after 4 pm, Chicken Oil company offers burgers at half price so if you are in the area and looking for a good burger at a very good price - I'd stop by Chicken Oil Company.
Restaurant/Atmosphere
The atmosphere at Chicken Oil Company has to be probably the most memorable part of the visit. It is a wooden building that looks sortof like a shack. (see pictures) Inside the walls are decorated with every type of animal imaginable. Definitely not the place that PETA should hold their next convention. There are also tons of posters and just random stuff decorating the walls. Kindof creates a pretty laid back "Texasy" atmosphere if that is a word. They also have a fireplace that when we were there didn't seem to be working very well. They had started up a fire but I think they left the plume closed because the place was filling up with smoke. They allow you to carve stuff into the tables. They are covered with stuff that people have carved into them. I like seeing stuff like that - it adds to the uniqueness of the restaurant. The wait staff was very friendly. I actually put them to the test - although not intentionally. I originally ordered the 1/4 burger - I have no earthly idea why. I went back and changed my order and the waitress I ordered with did not make a fuss about it - she changed the order and took care of it without making me feel like a schmuck for doing so. Big Kudos.
Directions
Chicken Oil Company is probably 2 or 3 miles down College Avenue from the campus of Texas A&M.
Address/Phone:
3600 S. College Avenue
Bryan, Texas
979.846.3306

Map: Map to Chicken Oil Company

TBG Overall Rating
Overall Chicken Oil Company left a good impression on me. The Snuffer's special is a great tasting burger. The atmosphere at Chicken Oil Company is really something to behold. I had asked on the Aggie message board for recommendations for burger joints in the College Station/Bryan area. All of them said Chicken Oil Company was a must try. My friends that went to A&M backed up their recommendation. I am glad I took their advice and went. Chicken Oil Company is a great place to go visit - you are guaranteed the Texas atmosphere and a good tasting Texas sized burger.
Overall TBG Rating for Chicken Oil Company: 8

Other Reviews of Chicken Oil Company:
None found.