Review #14: Dilla's Texas Grill - Tomball, Texas
Situated directly on the grounds of Treeline Golf Course, Dilla's is probably one of most testosterone friendly environments I have visited in quite a while. Where else can you play some golf with your buds and then throw down a greasy burger and not even have to get in your car? You could even meet your wife and kids there for dinner after playing golf as they have a sandbox for them to play in. It was plain to see that Dilla's certainly had the right environment... now it was time to give the burger a whirl. All in all - it wasn't bad. Wasn't the best, but not the worst either.
IMPORTANT: If you haven't already, please read the Texas Burger Guy terminology post. That will help you understand this review.

Dilla's Big Burger Review
The instant I walked in the door at Dilla's, it was pretty obvious to me that Dilla's had borrowed a page out of the Willie's Icehouse playbook. For those that don't know, Willie's is a chain restaurant with several locations in the Houston area. Good food I must say but alas... they are a chain and therefore they aren't getting any love from TBG. Anyway - the menu was similar, the tables and even the condiments were about the same as Willie's. I wondered if the burgers would be the same as well. Willie's has a pretty decent burger, but not great. I wondered if I was in for the same experience at Dilla's. As my Dilla's Big Burger came into view, I immediately got worried. The bun was a little froofy for my taste. I like a good ol' Mrs. Baird's plain jane bun... or even sesame seeds. The Dilla's burger had some sort of something that wasn't plain and was not sesame seeds. But a burger is much more than a bun so here is how I see the Dilla's Cheeseburger ranking in the TexasBurgerGuy categories:

Oooze Factor
Oh how I wish the picture below showed a white sheet of paper just covered with oooze. I wish your heart would just ache and heart doctors would write me nasty e-mails because of the terrible pictures I am posting on my site... but alas... the Dilla's Big Burger is not a pile of oooze. It is just a plain ol' cheeseburger with not a lot happening in the way of oooze. Don't get me wrong - it isn't dry - it actually has a little shine to it - but the Dilla's Big Burger just isn't a heavily ooozy burger.
Oooze Factor Rating: 5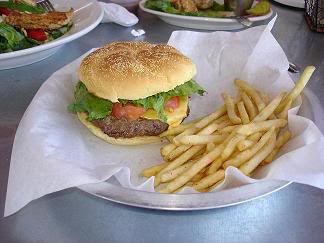 Click to enlarge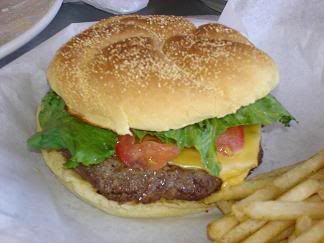 Click to enlarge

Herd Killer
Seeing as how I ordered the Big Burger, I was hoping it would be rolled out with a dolly. When that didn't happen, I had to settle for what they sent me. It wasn't small by any means, but it was not a heavy herd killer either. If you are at Dilla's and looking to kill a cow or two, order yourself the Bigger Burger. It is the double patty version of the Big Burger. I'd say that would be about enough burger to fill most people up quite nicely. Overall the Big Burger had good flavor, but no herd of cattle were killed for this burger.
Herd Killer Rating: 6

Handling
This burger is probably a 1 1/2 hander burger. It is not a 1 hander by any means, but it isn't so big that you need help from your friend to cram it into your face either. :) Again, if it is a 2 handed burger you desire... order the Bigger Burger cause well... its bigger. Overall, not bad, but not huge.
Handling Rating: 5

Bling Bling
The Big Burger comes with fries. (as shown above) The basket is $5.25. I left Dilla's full, although not feeling completely stuffed. I could have crammed in another handful of fries and maybe a second patty. I am spoiled because I have been to places like Christian's Totem where you can get a herd killer deluxe burger for about 3 bucks. I thought the Big Burger was not overpriced, but pretty close.
Bling Bling Rating: 5

Overall Dilla's Big Burger Rating: 5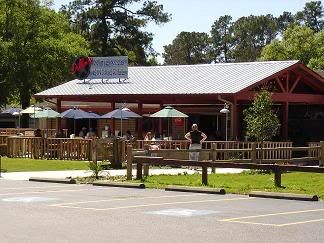 Click to enlarge

Restaurant Review
Dilla's menu offers a pretty good variety of food ranging from fried catfish to burgers to steak. They have a pretty mean appetizer in the stuffed mushrooms (see picture below). My goodness gracious those babies were awesome!!! There were actually 5 on the plate when they came out but I couldn't help myself before taking the picture. Anyway.. the food was good. As I said before, the burger didn't set me on fire, but that isn't to say it was terrible either... I have had a LOT of burgers so I guess my standard is pretty high by now.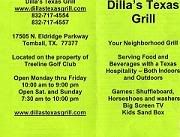 Front
Click to enlarge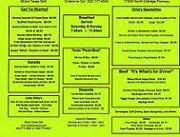 Back
Click to enlarge

Stuffed Mushrooms (Appetizer)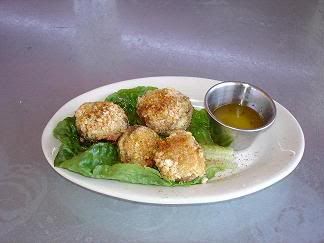 Click to enlarge

Restaurant/Atmosphere
How can you go wrong with a restaurant actually ON the golf course? You just can't. Dilla's has a great patio area (where we sat) and it was absolutely awesome out there on a wonderful Houston spring day. The waitstaff was absolutely AWESOME!! Our waiter was there to help us with each and every need but stopped short of bugging us. Very friendly all the way around. They have a sandbox for the kids to play in. This again was another page from the Willie's playbook but it is nice. Overall I really enjoyed the visit to Dilla's and will be back... next time though I'll get the Bigger Burger instead....
Directions
Dilla's is located at right next to Treeline Golf Club in northwest Houston. If you're going north or south on Highway 249 - just exit at Spring Cypress Road, go one mile west to Eldridge (stop light) and turn right. The restaurant will be on the left.
Address/Phone:
17505 N. Eldridge Parkway
Tomball, Texas 77375
832.717.4554

Map: Map to Dilla's Texas Grill

TBG Overall Rating
Dilla's has a great atmosphere. You simply can't beat sitting out on the deck on a perfect spring day. The food is pretty good. The staff is awesome. I will be back to visit Dilla's again mainly for the atmosphere... and it is on the golf course I frequent.
Overall TBG Rating for Dilla's: 6

Other Reviews of Dilla's:
None found.
Other Links:
Dilla's Website