Watch the TexasBurgerGuy on the Food Network!!!
Ever wondered what the TexasBurgerGuy looks like? You probably think I am an 800 pound mammoth... maybe you are right. Maybe you think I am a 13 year old teenage boy just messing around on daddy's computer... maybe you are right.
Well TBG readers... wonder no more because on Tuesday, November 28th at 9:30 pm CST... you will have a chance to see me on national TV as I will be on the Food Network's show "Hungry Detective".

Here is how it all happened... In October I received an e-mail from a producer at the Food Network asking me if I would be interested in being part of the Hungry Detective show they were filming in Houston. They used my website to find the burger joint they were shooting at. I gladly accepted. We filmed on a really wet day in mid-October at Bubba's Texas Burger Shack in southwest Houston.
If you haven't watched the Hungry Detective... it is a great show! The show is hosted by Chris Cognac. Chris works as a detective for LAPD. He was asked to do this show where he uses his detective skills to find off the beaten path restaurants. He used my website as one of his leads in finding an off the beaten path burger joint in Houston... thus the reason they asked me to be on the show.
I took some pictures of the filming that I thought you might enjoy....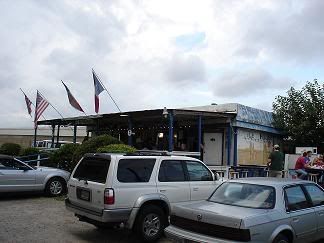 This is a picture of Bubba's Texas Burger Shack in the day. I did a review on Bubba's but it was at night...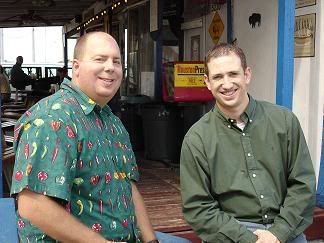 Here is Chris, the host of the show with some dude.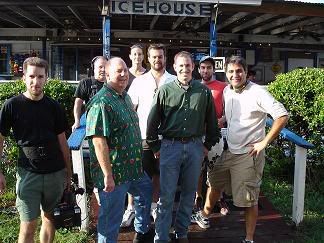 Here is the whole crew with the same dude hanging around. Chris is in the front left and the guy in the white longsleeve shirt and khaki shorts to the right front is Sean O' Malley... the producer of the show. Sean is an exceptionally nice guy!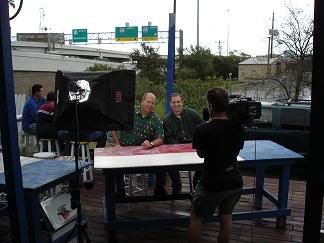 Here is where the big eat and chat shot took place... getting ready for it.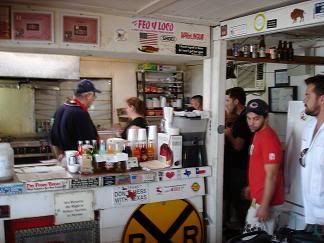 The crew was getting the kitchen at Bubba's ready for the shot back there.
2 TBG Readers got an insiders tip about the show filming at Bubba's and they showed up to see what was going on... they ended up getting filmed for the show!!!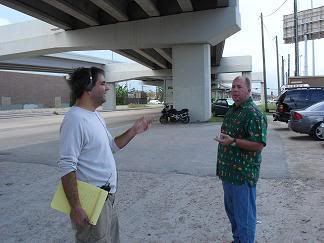 Chris and Sean discussing one of the shots.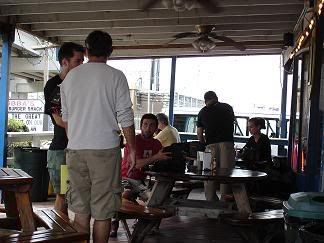 It rained like crazy during the day so the crew took refuge on Bubba's deck.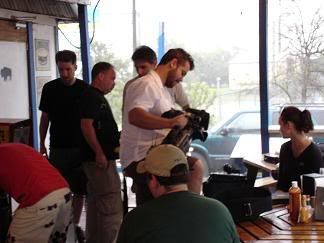 This was immediately after the chat and eat shot... it was pouring down rain!!
All in all I will never EVER forget this opportunity. It was fantastic! I also have a new found respect for what goes into putting together a TV show. The segment I am on is 7 minutes long and we shot at Bubba's for 7 hours! Sean and his crew were top notch! Chris Cognac is an amazing guy! He and I sat around and talked about what else but food all day.
I hope that you will tune in or Tivo the show on Tuesday, 11/28 at 9:30 pm. I will try and pull it off my Tivo and put it somewhere on the web so you can view it if you miss it.