Review #25: Southwell's - Houston, Texas

Well TBG readers... I've been on a bit of a hiatus for a month or so... To answer your e-mails... no I am not quitting TBG... just overwhelmed with my regular life lately.. that's all. So... it's back to blogging and back to TBG we go!!!
Southwell's is a hop, skip, and a jump from my office. I had driven by it many times but just waited on doing a review. One Friday, some coworkers of mine asked if I was in the mood for a burger... ofcourse I was. So - away we went to Southwell's. I was really hoping Southwell's would be a great place... seeing as how it is so close to the office. Well.... not so much. Despite Southwell's possessing many characteristics shared by good mom and pop burger joints like a regular crowd, plain chairs and tables, no fruity items on the menu.... it just flat out missed the mark when it came to the burger itself which to me is absolutely essential to get a good review from me...
IMPORTANT: If you haven't already, please read the Texas Burger Guy terminology post. That will help you understand the terminology I use in this review.

Southwell's Cheeseburger
Upon entering Southwell's, I was pretty excited to see the large lunch crowd that had congregated. That is usually a really good sign. The second thing that caught my attention was the menu... its written on a big chalkboard at the back of the restaurant. Simple... which to me is a good thing. If things like the ordering process and the restaurant environment is simple... yet the place is packed... you know the people are there for the food. Atleast that is what I thought. After ordering and receiving my Cheeseburger... I was pretty let down. Southwell's delivered on the atmosphere, but they missed the mark on the burger. This is how I see the Southwell's Cheeseburger ranking in the TexasBurgerGuy categories:

Oooze Factor
Usually the first thing I look for when I get my burger is the Oooze Factor. If its dripping wet or at the very least shining with oooze... then I know the burger has a chance of being great. Missing that and right away I know I am in for a less than enjoyable experience. Unfortunately... the Southwell's Cheeseburger just didn't have the amount of Oooze required to get a good Oooze Factor rating. It's one saving grace was that the cheese was melted very nicely over the patty. But... that wasn't enough to save it in this category...
Oooze Factor Rating: 5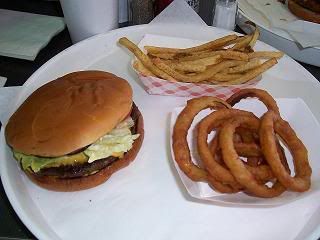 Click to enlarge

Herd Killer
One thing that really gets me angry is seeing a mom and pop burger joint go with a frozen patty. That to me tells me they want to be a good burger joint... they just don't want to give the effort or spend the money to deliver a fresh hand packed patty to its patrons. Southwell's uses a frozen patty which probably explains the lack of Oooze. The Cheeseburger is a 1/2 pounder but it just loses so much size and quality when it is a frozen patty.
Herd Killer Rating: 4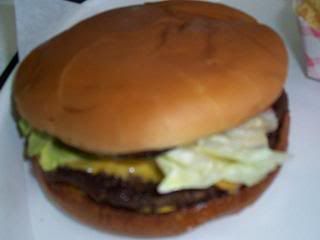 Click to enlarge

Handling
Southwell's Cheeseburger for all intensive purposes is a sizable burger. I think they must flatten the 1/2 pound patty to make it cover the big buns they use. It was big, but not as big or hard to handle as some others I have consumed...
Handling Rating: 6

Bling Bling
I paid 4.25 for the 1/2 pound Cheeseburger. I REALLY wish it came with fries, but it didn't. To me, 4.25 is too much. I would have happily paid 3 bucks for it but given the above mentioned problems with the burger... 4.25 seems too steep.
Bling Bling Rating: 4
Gravedigger
Despite the fact that most burgers are not good for you, I didn't leave Southwell's with a desire to get myself right with God... so it must not have scared me too bad. It was far from a scary experience.
Gravedigger Rating: 5 Shovels





Overall Southwell's Cheeseburger Rating: 4

Restaurant Review
As I scanned the menu options at Southwell's, I found a few things on the menu that told me we were in the Galleria area of Houston. I wouldn't be caught dead ordering something called a "Bleu Burger" or an "Avocado Burger". There were other things on the menu that sounded good... like the chili cheese fries, beer battered onion rings, and a chili burger. It was missing some of the special names that mom and pop burger joints come up with... I am thinking of Chris Madrid's crazy names... or Tookie's Squealer. No such creativity taken here at Southwell's. My two coworkers and I ordered a good selection of the menu items. Between the three of us, we ordered the cheeseburger, double meat cheeseburger, chili burger, fresh cut fries, and beer battered onion rings. The fresh cut fries were awesome! I really love fresh cut fries. The onion rings were OK. The chili burger (see below) looked good and it was pretty messy. The double meat cheeseburger looked ok.. just a larger version of what I had ordered. All in all - the food was good... not great.... just good.
Southwell's Double Cheeseburger



Click to enlarge

Southwell's Chili Burger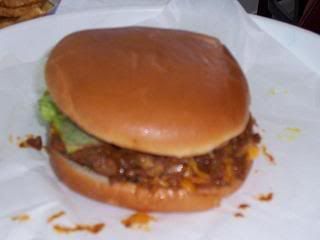 Click to enlarge

Restaurant/Atmosphere
From the outside, Southwell's looks like a good burger joint. It has a simple awning with its name. Nothing fancy. Inside... more of the same. Simple tables and chairs... the big menu on the back wall... it all looked so simple and plain... just the way it should be. You place your orders at the back. They take your name... they messed up my name despite me correcting them... twice. The food came pretty fast despite them being pretty busy with the lunch crowd. Overall... I won't be going out of my way to get back to Southwell's. It is a good alternative to the fast food burger joints... but it isn't a great mom and pop burger joint.



Click to enlarge

Directions
Exit Loop 610 West on San Felipe. Travel west on San Felipe 3-5 miles. Southwell's is just pass the intersection of Augusta and San Felipe. Southwell's will be on your right.
Address
5860 San Felipe #F
Houston, Texas 77057
(713) 789-4972
TBG Overall Rating
Overall... not impressed with Southwell's. It looks like a good place. I REALLY wish it had a good fresh burger. No such luck... I was disappointed.
Overall TBG Rating for Southwell's: 5