Review #16: Tookie's Burgers - Seabrook, Texas

From the first days of TexasBurgerGuy.com, I have been told repeatedly that I absolutely HAD to go try out Tookie's. There were stories of people driving days on end from the far reaches of the world just for a taste of a Tookie's burger. Knowing this, I saved Tookie's to review for a few reasons. First, it is dang near the end of the earth from where I live and second, I was saving it for when I was really looking forward to a good and tasty mom and pop burger joint experience. My oh my were my expectations set sky high for this place. Probably shouldn't be a suprise that I was pretty disappointed with Tookie's. I know this probably will burst some people's bubble, but I have to give an honest assessment of Tookie's... no matter how ugly it might be.
IMPORTANT: If you haven't already, please read the Texas Burger Guy terminology post. That will help you understand this review.

Tookie's Cheeseburger
The Tookie's menu is loaded with lots of specialty burgers. There is all kinds of stuff you can get including a wine marinated burger, bean burger, bbq burger... just to name a few. This presented a very tough choice for me to make... choose the specialty burger... or go with the regular cheeseburger like I have tried at all the other places I have reviewed. In the end, I decided to go with the regular cheeseburger... really to halep me compare against the other cheeseburgers I have tried at other places. I am sorry to say the cheeseburger was pretty disappointing. In a word: plain. I didn't find what all the big hub bub was about the burger. Sure, it was a handmade burger.. no question about that, but it was tiny. Taste was ok, but I just couldn't get over small the burger was. This is how I see the Tookie's Cheeseburger ranking in the TexasBurgerGuy categories:

Oooze Factor
Oooze is one area that the Tookie's cheeseburger excelled. It was not a dry burger by any means but it also was not a burger that would make a cardiologist cringe with fear either. I would have say it had the right amount of oooze without going overboard.
Oooze Factor Rating: 7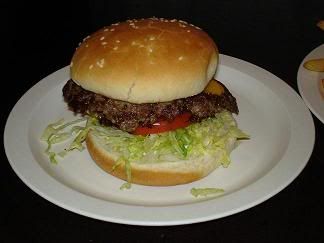 Click to enlarge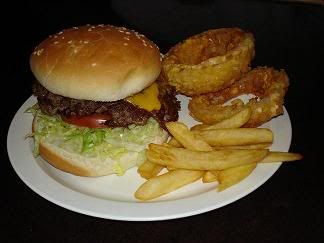 Click to enlarge

Herd Killer
The Tookie's Cheeseburger was not a big burger. Not many herds were killed to make this thing lay down on my plate. Like I said, my expectations were very high for Tookie's. I expected to be blown away by this place but instead I was met with a pretty small, not really all the great tasting burger.
Herd Killer Rating: 5

Handling
Tookie's loads the burger with lettuce, tomatoes, onion, and pickles. The patty is not that thick but with the vegetables, it makes the burger a little hard to handle. I'd have to say this is a 1 hander only.
Handling Rating: 4

Bling Bling
The Tookie's Cheeseburger is 3.69. After consuming this burger, I still had room for the onion rings. I would have preferred though for almost 4 bucks to be stuffed with beef instead of fried onions.
Bling Bling Rating: 4

Overall Tookie's Cheeseburger Rating: 5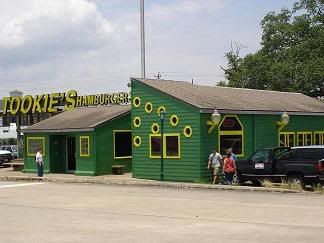 Click to enlarge

Restaurant Review
The Tookie's menu is one of the most creative I have seen yet. I've never seen picante sauce, refried beans, and beef combined on a burger. Nor have I heard of marinating a hamburger in wine before either. I did spot a few of these burgers being ordered around me and they looked pretty interesting. I think if I ever go back, I will have to try one of these specialty burgers as it seems to be the thing that draws people there. One of the things that I heard so much about were the onion rings. People simply RAVED about how good they were and how badly I needed to try them out. Ofcourse I complied. I must say, the were pretty good. I wouldn't say great... but they were good. I am learning that onion rings are like BBQ. Everybody has their own tastes and preferences when it comes to O-rings. To me, these were just OK... others may think differently. We were there on a holiday weekend and the place was busy busy busy. As a result, the service was just a step above what you would expect if you were to serve yourself. I'm not slamming Tookie's for this because it was a holiday weekend and they were extremely busy.. BUT gimme a break. Mrs. TBG tried the T-Bird which is the grilled chicken sandwich. She said it was good... but not great.


Front
Click to enlarge




Back
Click to enlarge

Onion Rings & Fries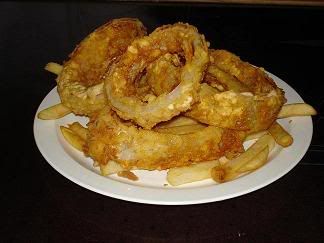 Click to enlarge

Restaurant/Atmosphere
Without question the atmosphere at Tookie's was AWESOME! This quite possibly ranks at the top of my mom and pop burger joints in terms of the building itself. The inside is wood. The ceiling is wood, the floor is wood, walls are wood, wood tables, wood everywhere. If a fire ever started in this place... look out cause it is coming down really fast. All in all though, I really enjoyed the booth we were in. It was easily the best part of the visit.
Directions
From I-45 and Beltway 8 (Sam Houston Tollway), go south. Exit NASA Rd 1. Hang a left. You will stay on NASA Rd 1 until it hits Hwy 146. Take a right on Hwy 146. Tookie's will be on your left.
Address/Phone:
1202 Bayport Blvd.
Seabrook, Texas 77586
281.474.3444

Map: Map to Tookie's

TBG Overall Rating
The restuarant itself was awesome. I really loved the building and the attitude it put off. The food and service left a lot to be desired. With all the talk about Tookie's, I thought for sure I was in for a real treat. What I got was a pretty big let down. I may go back to Tookie's to try a specialty burger. That has to be what everybody is talking about.
Overall TBG Rating for Tookie's: 5

Other Reviews of Tookie's:
http://www.b4-u-eat.com/houston/restaurants/reviews/rsv1281.asp
http://houston.citysearch.com/review/10026317
http://www.digitalcity.com/houston/entertainment/search.adp?page=detailReviews&id=109160102&layer=venues