Review #15: Aunt Pookie's BBQ & Burgers - Houston, Texas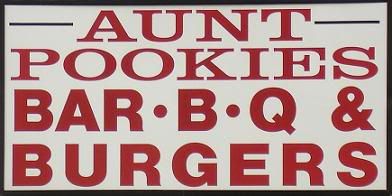 Even though I had driven past Aunt Pookie's located on Beltway 8 West probably 100 times, I never knew it was there. It is located in an industrial park. As I walked in the door, I was a little worried that maybe Aunt Pookie's was more of a BBQ place than a burger joint. I was proved wrong after having a bite of my Aunt Pookie's cheeseburger.
IMPORTANT: If you haven't already, please read the Texas Burger Guy terminology post. That will help you understand this review.

Pookie's Cheeseburger
As I mentioned in the introduction to this review, Aunt Pookie's seems like more of a BBQ place than a burger joint. A dearly departed friend of mine told me about Aunt Pookie's so I simply could not think about not giving Pookie's a whirl. All in all the cheeseburger was good. It is a plain and simple burger - no frills - just a good tasting burger. It didn't have the pizzazz of a Bubba's burger or the sheer girth of a Christian's or Lankford's burger. It just had a good backyard burger flavor to it at a fairly reasonable price. This is how I see the Pookie's Cheeseburger ranking in the TexasBurgerGuy categories:

Oooze Factor
I'm seriously thinking about doing a napkin test to demonstrate the oooze factor of a burger. If I had administered that test on the Pookie's Cheeseburger, it no doubt would have scored fairly well. I can imagine about 50% of the napkin would be see through from the oooze. It didn't rank up there with the oooziest burgers I have had, but it was definitely not a dry burger.
Oooze Factor Rating: 6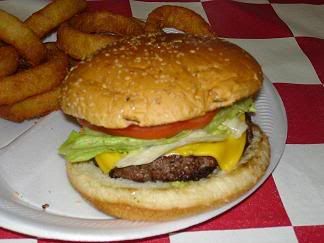 Click to enlarge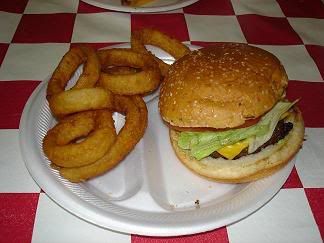 Click to enlarge

Herd Killer
The Pookie's Cheeseburger was a 1/2 lb burger. Now I have learned from the many burger joint experiences that when a place says it is a 1/2 pound burger that could mean one of 2 things. Either the burger was 1/2 lb before it was cooked or it is a 1/2 lb burger after it was cooked. I'd have to say the Pookie's is a 1/2 lb before cooking. It certainly was not a huge button buster burger, but it definitely filled me up. Not many herds died for this bad boy though.
Herd Killer Rating: 5

Handling
Pookie's has a nifty little buffet that you can dress up your own burger. Here, you can pile the lettuce, tomato, and whatever else you want on your burger as high as you want. The pictures you see show my burger after it was dressed by me. It was probably a 1 1/2 hander burger. If I had gone crazy with the vegetables or if the patty was a 1/2 lb after cooking - it would easily be a 2 hander. As it is though - this is a 1/2 hander.
Handling Rating: 5

Bling Bling
The Pookie's 1/2 lb Cheeseburger is 4.15. All in all - it isn't that bad for what you get. The burger had very good flavor. Backyard burger flavor is probably the easiest way to describe it. If you like a good flavored burger. The 1/2 lb Pookie's Cheeseburger is a pretty good deal.
Bling Bling Rating: 5

Overall Pookie's Cheeseburger Rating: 6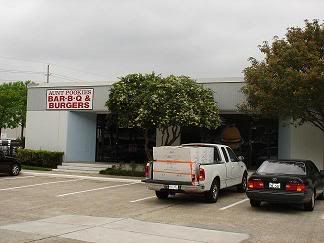 Click to enlarge

Restaurant Review
The Pookie's menu is pretty heavily slanted towards their BBQ. You can get a variety of BBQ plates including ham, turkey, sausage, ribs, or beef. I can tell you the smell from the BBQ may have just made me want to go back for a taste of the BBQ. The reviews I have read about the BBQ have been favorable. I tried the onion rings and the fries. Do yourself a favor and order some onion rings. OH MAN are they good??? They are the greasy, soft variety. When you take a bite, the onion is pretty slimy. I love em that way... some people don't including Mrs. TBG. Mrs. TBG had the grilled chicken sandwich that they grilled with mesquite. It was awesome! All in all we didn't have anything that stood out as being bad. Pretty much everything we tried was good.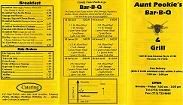 Front
Click to enlarge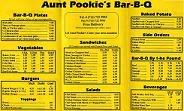 Back
Click to enlarge

Onion Rings & Fries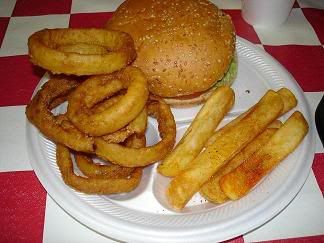 Click to enlarge

Restaurant/Atmosphere
Aunt Pookie's has a great little patio out front. (can't see it from my picture) The inside is pretty standard - nothing special. It doesn't have the atmosphere of a Mel's or anything like that. Aunt Pookie's is a standard restaurant type place... that's it. The waitstaff was very polite. Very good visit to Aunt Pookie's. I think one day we will be back to try the BBQ.
Directions
From I-10 and Beltway 8 (Sam Houston Tollway), go north on the access road. About 1/2 mile on your right, you will see the Aunt Pookie's sign (see top of review).
Address/Phone:
1450 W Sam Houston Pkwy
Houston, Texas 77043
713.722.9993

Map: Map to Aunt Pookie's

TBG Overall Rating
Aunt Pookie's was a great place. It is more of a BBQ place, but they also have a mean burger. While it wasn't the best of the best, it definitely held its own. The flavor is what stayed with me... it was very good. If you are in the area and want to try a good tasting burger - give Pookie's a run - oh and get some onion rings... you will be glad you did!!!
Overall TBG Rating for Aunt Pookie's: 6

Other Reviews of Aunt Pookie's:
http://www.b4-u-eat.com/houston/restaurants/reviews/rsv2165.asp