Review #17: Pa Pa Doc's Restaurant - Meridian, Texas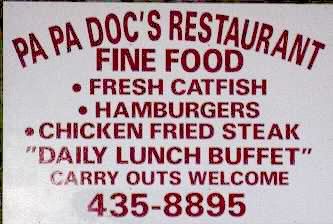 Well sports fans... I am officially back in the saddle. To relaunch TBG I thought it would be fitting to do a review on a burger joint that is WAAAAYYYY off the beaten path. Pa Pa Doc's located in a small town in Bosque County named Meridian fit the bill VERY nicely. I must tell you that during my sabbatical I have continued to eat at many mom and pop burger joints to try and find some good places to review. Many of the places I ate at would have gotten a bad bad bad rating from me. Me being the nice type just didn't want to trash a place. Pa Pa Doc's was one that I tried out and it definitely made the grade. When you throw in the warm atmosphere and beautiful scenery in and around Meridian... there just aren't many places better than Pa Pa Doc's to grab a good ol' burger.
IMPORTANT: If you haven't already, please read the Texas Burger Guy terminology post. That will help you understand this review.

Pa Pa Doc's Cheeseburger
One thing definitely sticks out in my mind when I think about the Pa Pa Doc's Cheeseburger... it isn't the meat although the meat is just fine... it isn't the fries.... the oooze... it's the homemade buns! I think they must be sourdough buns or something because they have a sweetness to them that is just OUT of this world!!!! The overall taste of the Pa Pa Doc's C-Burger was great as well. This is how I see the Pa Pa Doc's Cheeseburger ranking in the TexasBurgerGuy categories:

Oooze Factor
I decided to snap a picture of the burger as it was delivered to me. The white paper is transparent around the meat portion which is always a good sign in my book. That tells me I'm in for an oooozy treat. While the burger wasn't dry by any means - it also wasn't dripping wet either... I'd say it was just right in the oooze category.
Oooze Factor Rating: 7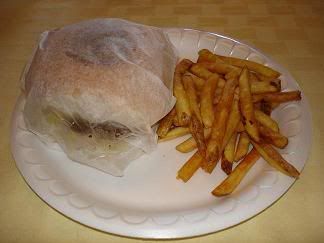 Click to enlarge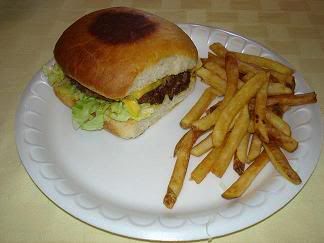 Click to enlarge

Herd Killer
The Pa Pa Doc's Cheeseburger was not a burger that would make a young heifer burst out in tears... but it was just big enough to fill my belly and still be able to get up and walk away from the table without holding my stomach in pain. Taste wise - it was pretty good - not knock my socks off and nothing really special about it - just good.
Herd Killer Rating: 7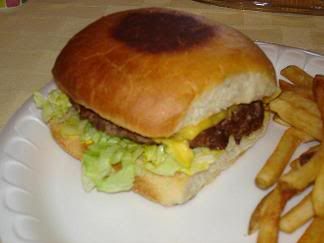 Click to enlarge

Handling
Pa Pa Doc's Cheeseburger is my first ever regular size square shaped burger to consume. I have had the White Castle burgers... but those really just don't even count. I like the square shape... it made for an easy angled bite to get into the burger quickly. It isn't a huge burger by any means but again - just right. I am beginning to think this is the Goldilocks of burgers. Probably a 1 1/2 handed burger.
Handling Rating: 5

Bling Bling
The Pa Pa Doc's Cheeseburger is 2.59 which I think is just the right price for this size burger. Heck - I'd pay 5 bucks for another bun to munch on... did I tell ya how good the buns are??? WOW!!!
Bling Bling Rating: 6

Overall Pa Pa Doc's Cheeseburger Rating: 7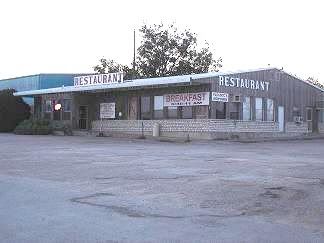 Click to enlarge

Restaurant Review
As the Pa Pa Doc's sign reveals above... this is more than just your every day mom and pop burger joint. They also have some good ol' country cookin' goin' on at Pa Pa Doc's. You'll find fried catfish, chicken fried steak, burgers, salads... you name it and they probably have it. I have tried the cheeseburger (duh), Mrs. WreckEm tried the chicken sandwich. Both of us were very satisfied with our meals. The fries as you can see from the pictures are really nothing to write home about. But they are also nothing to write to the health department either. Again - they have a Goldilocks burger and they have Goldilocks fries to go with it. Service is really good at Pa Pa Doc's. Not only are the waitstaff nice and helpful but the overall atmosphere is good as well. More on that....

Restaurant/Atmosphere
Pa Pa Doc's is exemplifies the Texas small town setting. Not only are the waitstaff polite but the other patrons in the restaurant are also friendly. When you are there - you feel welcome to Pa Pa Doc's as well as you feel welcome to Meridian. I'll write up a little section on Meridian as well. It is a neat little town and a beautiful part of the great state of Texas.
Meridian, Texas
In a word... Meridian is peaceful. As you will quickly discover while driving around Meridian - there just ain't that many people that are in a hurry that live in Meridian. Meridian is surrounded by some of the prettiest parts of the state. There are many rolling hills complete with cedar trees galore. The air is clean and the town is just quiet and peaceful. Nestled in the heart of Meridian is the courthouse. Meridian is the county seat of Bosque County. Here is a shot of the courthouse located on the square in Meridian.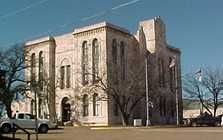 While in town - make sure you make the drive out to Meridian State Park. This is an absolutely beautiful park located about 5 miles west of town on Hwy 22. They have ample room to hike, fish, camp, boat... whatever your little outdoorsy heart desires - you can pretty much do it at Meridan State Park. Here is a picture from TPWD.com from the park...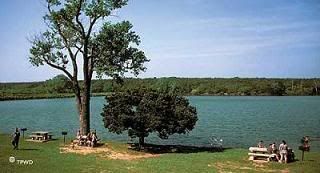 Meridian is also located about 20 miles from Lake Whitney. Home to some of the best bass fishing in Texas. You just can't go wrong with making a visit to Meridian... they have a wonderful burger joint in Pa Pa Doc's, friendly people, beautiful state park, and all of this is surrounded by some of the prettiest hills and trees found in the state of Texas. TBG Highly recommends a visit to Meridian.

Directions
From Waco, Go North on Highway 6 47 miles to Meridian. When you get to Meridian, take Hwy 22 like you are going into town. Immediately on your left you will see Pa Pa Doc's.
Address/Phone:
502 W Morgan
Meridian, TX
254.435.8895
Map: Map to Pa Pa Doc's

TBG Overall Rating
Overall very satisfied with my visit to Pa Pa Doc's as well as Meridian in general. Pa Pa Doc's has friendly waitstaff, good service, good mom and pop atmosphere... It has it all and then some.
Overall TBG Rating for Pa Pa Doc's: 8

Other Reviews of Pa Pa Doc's: None found.