Review #28: Wallbangers - Corpus Christi, Texas

Recently, I found myself in Corpus Christi on business. As I was checking into my hotel, my stomach started speaking to me. I glanced over to a rack of brochures. There, sitting on the rack was a brochure for a local mom and pop burger joint named Wallbangers. The name intrigued me and the pictures on this brochure intrigued me as well. It seemed like a good find but I wanted confirmation. I checked with a friend of mine who grew up in Corpus and he concurred. The hotel concierge also concurred. Wallbangers is a well known producer of big nasty burgers. That was it - my mission had been changed from visiting the original Whataburger (Corpus is where Whataburger was started) to visiting Wallbangers. In just a few short hours I wanted to find myself seated in the Wallbangers restaurant chowing down on some Corpus Christi bovine. It wasn't long after this that turned into the parking lot of Wallbangers. Nestled at the end of a strip center... Wallbangers was unusually busy for my 2:30 pm arrival. It was simple on the outside. Good sign. It was busy. Another good sign. It was recommended by the locals. Yet another good sign. Things were looking good but there is only one way to find out if Wallbangers is worthy of a good TBG review or if will go down as just another burger place.... let's eat!!!
IMPORTANT: If you haven't already, please read the Texas Burger Guy terminology post. That will help you understand the terminology I use in this review.

Wallbangers Cheeseburger Review
As I gazed upon the wall size Wallbangers menu, I quickly noticed how "custom burger" seemed to be the theme of this place. It smelled to me like a Fuddrucker's copy. One look to my left where I discovered the place where you dress up your burger (ala Fuddruckers) and I had cracked the code on this place. It was a Fuddruckers model. Now don't get me wrong - I LOVE Fuddruckers but Fuddruckers model works for Fuddruckers. I have been to 4 other burger joints that have desperately tried to perfect the Fuddrucker's experience but have sadly and in some cases WAY WAY missed the mark. Nevertheless - this was a new day and a new burger joint. I remained hopeful - although skeptical at the outcome of this experience. I loved the way the menu was laid out. You select your patty, how you want it cooked, your cheese, your sauce, and any add ons like bacon, mushrooms and jalapenos. It was all I could do to stick to ordering the standard TBG Cheeseburger for my review. My coworker ordered one of the "Stuffed Burger"... more on that later. I ordered onion rings and fries as well. Have to try it all out.
After a brief wait, my number was called and I made my way to the fixins bar where I dressed my burger up just the way I like it. Upon returning to my seat I looked at my coworkers burger and felt "Outwhataburgered". Man that thing was awesome looking. My burger didn't look all that shabby either. But... looks aren't everything... how would it rate???
Here is how I see the Wallbangers Cheeseburger ranking in the TBG categories:
Oooze Factor
Hidden underneath this monster homemade bun was the main course... my patty. It definitely had the shine going on from the oooze in it. I have seen many shiny burgers that ended up being dry inside the patty. This one turned out to be pretty good. I didn't have anything running down my arm - just an excess of trimmings I piled on the burger by mistake. Overall - about average oooze.
Oooze Factor Rating: 7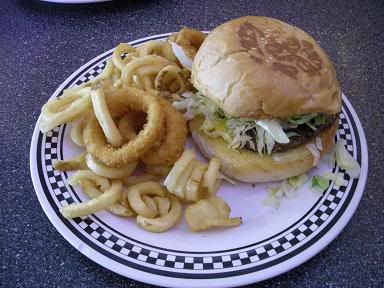 Click to enlarge

Herd Killer
This burger would strike fear in many a cow's heart. It was nice and big. I knew I would have trouble getting it all in my stomach. The big question mark for me was would it have good flavor. After my experience at Arnold Burger in Amarillo - I am very aware that the bigger the patty - the more seasoning is needed to avoid a tasteless burger. Well - they didn't quite hit the mark as the patty was so big - it just didn't have a lot of flavor to it. The trimmings made up for some of it - but you can't really replace that sought after meat flavor. It was big - but just not as tasty as I like em.
Herd Killer Rating: 6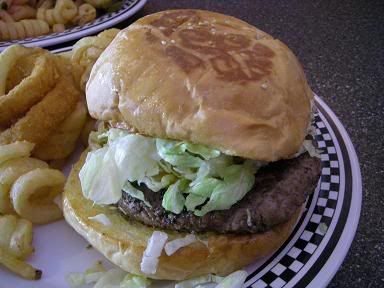 Click to enlarge

Handling
Hands down a two handed burger. The patty itself should have its own Handling rating of 10 or 11.
Handling Rating: 7

Bling Bling
Given the amount of food you get complete with unlimited refills on your drink, I paid a good rice (don't have exact amount) for my burger. It was around 6 bucks for the burger combo. I wasn't too alarmed at the price.
Bling Bling Rating: 8
Gravedigger
Maybe not my burger - but my coworkers burger would receive a high Gravedigger rating. My burger was big and mean - just not as scary as some others that I have had. Maybe its me - but a Fuddruckers burger just doesn't scare me any which is what this burger reminded me of.
Gravedigger Rating: 5 Shovels





Overall - it was OK. I enjoyed the burger and the side items. I enjoyed the atmosphere more than the food I think. The Fuddruckers model works good for Fuddruckers. The burger was good - but not great. If you are in Corpus and have a hankerin' for a good homestyle burger - Wallbangers is a safe bet... just don't expect too much.
Overall Wallbangers Cheeseburger Rating: 6
Restaurant Review
One of the things that makes mom and pop burger joints great is their creative menus. Wallbangers had on their menu a "Stuffed Burger" which I had never seen before. I encouraged my coworker to get one of those things just to see what it's all about. His burger is shown below in the pictures. It looked like an explosion of meat, cheese, mushrooms and bacon. My heart ached at the site of it. After a few bites he commented that it was really good. Their onion rings were good. I always enjoy loading up my plate with melted cheddar cheese at Fuddruckers. Wouldn't you know it that Wallbangers also had melted cheddar cheese. I loaded up my plate and enjoyed their onion rings which to me were just OK. Nothing special. The fries were curly fries which I like. I bet if they had chili and cheese on the curly fries - they'd have a winner. If you like your heart and want to see your grandkids grow up - you also have the option of making your own salad at the 60 item all you an eat salad bar. The bar sits on its own 1 acre lot... or so it seems anyway...
"Stuffed Burger" with Mushrooms, Bacon and Swiss Cheese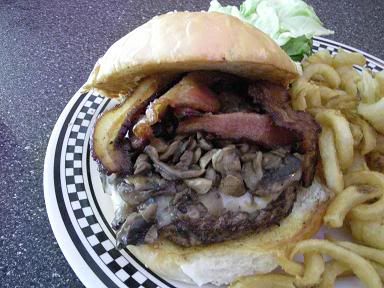 Click to enlarge

Heart Attack on a Plate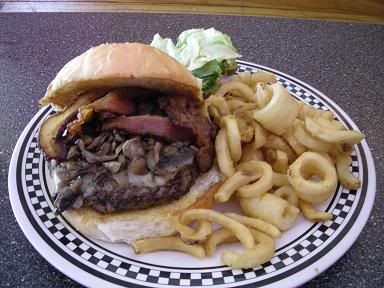 Click to enlarge

Restaurant/Atmosphere
In a town known as the home of Whataburger, Wallbangers delivered an enjoyable experience. The inside of Wallbangers is cozy. They have high backed wooden booths around the perimeter and tables in the middle of the restaurant. Lots of tables. They also have video games which would make this a cool place to hang out if I had the time... All in all - the name Wallbangers is creative. The menu was creative. The atmosphere was just right. My only complaint was the burger was just so so and the Fuddruckers model that they were following. Besides that - its a great place. The staff was nice and extremely helpful. Great atmosphere!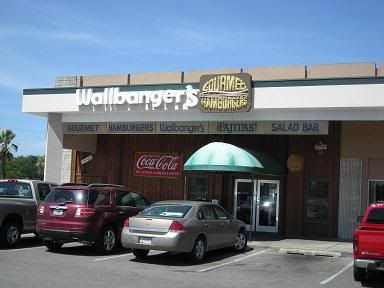 Click to enlarge

Directions
Exit Staples Drive off South Padre Island Drive. Go south on Staples.
Address
4100 South Staples
Corpus Christi, TX
(361)855-8007

Map
Wallbangers Map

TBG Overall Rating
Wallbangers provided a good dining experience. I would have liked more flavor from my burger but I did get melted cheddar cheese with my onion rings so it wasn't a total loss! If I am ever back in Corpus I'll probably look for another place to try.

Overall TBG Rating for Wallbanger's: 7