Review #19: Dubl-R Burgers - Waco, Texas
From TBG: You know - Texas is a BIG place... to cover it all.. I decided I needed some help... SO...... Ladies and gentlemen - you are experiencing history today. This review is the FIRST ever review posted by an Official TexasBurgerGuy Affiliate. This Dubl-R Burgers review will be made by my Central Texas Affiliate. This young man is willing to put his health on the line to bring you mom and pop burger joint reviews. I am THRILLED to have my Central Texas Affiliate onboard. He will be turning out more reviews in the near future from the Central Texas area... I am also working with an affiliate in North Texas to cover burger joints in that area as well.... stay tuned...

Texas Burger Guy – Central Texas Affiliate Review #1

Dubl-R Old Fashioned Hamburgers
1810 Herring Avenue
Waco, TX
(254) 753-1603
Welcome everyone to the Texas Burger Guy's Central Texas affiliate Review #1. For this review (on a sunny 56 degree January Saturday afternoon), Dubl-R Old Fashioned Hamburgers in Waco, Texas was chosen. This is a place I had last visited around 2 years ago. Located in an older, and somewhat dilapidated section of town (and pretty much all the way across town from where I live), Dubl-R is a place that might not immediately come to mind. But it should. Now that I think about it, it should not have taken me close to 2 years to re-visit this North Waco establishment. It has all the elements of a quintessential TBG place – family owned and operated, and nothing fancy about it by any means. Just good old-fashioned burgers and fries served up by a friendly and engaging staff. Now for the review….
As I walk into Dubl-R, I am quickly greeted by a friendly cashier ready to take my order. I order a Double Meat, Double Cheese burger basket with lettuce, tomatoes, pickles, and mayonnaise, along with fries and a 20 oz. soda of my choosing. After placing my order, I take my number, fill up my soda cup, and try to find a seat. Although it is a Saturday, this place is bustling with customers. All seem to know one another or the staff working there which lends itself very well to making a relative newbie such as myself feel comfortable in this setting. I take a seat at the counter so I could watch the Staff go thru the process of creating mine and others meals. It took about 8 minutes from the time I placed my order until the time in which it was served; which was relatively prompt given the amount of customers present on this particular day.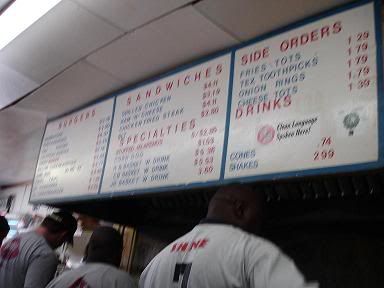 Ooze factor
Admittedly I am new to these kinds of reviews so bear with me for a bit. As such I am certain that as time goes on, my standards for the ooze factor will raise accordingly. That being said, a burger from Dubl-R was neither dry nor overly greasy but rather on par with many other burgers I had sampled previously. It was just about right for me and as such I assign a rating of 5 to it, right about middle of the road.
Ooze Factor Rating: 5
Herd Killer

Dubl-R served up a fair-sized hamburger. I did not leave wanting to loosen my belt a notch nor was I still hungry upon exiting. To not be unfair to Dubl-R, I had not eaten breakfast that morning. So by the time I arrived, I was ravenously hungry so I am sure that had something to do with me not feeling too full when I left. All in all it was a middle of the road in terms of size and weight, so I give it a rating of 6.
Herd Killer Rating: 6
(As an aside, the menu serves up a quad-burger – 4 meat patties and 4 slices of cheese for around $9 just for the burger. If a patron is able to consume this massive quantity, the next quad is on the house. This is definitely a challenge I will be up for in the future.)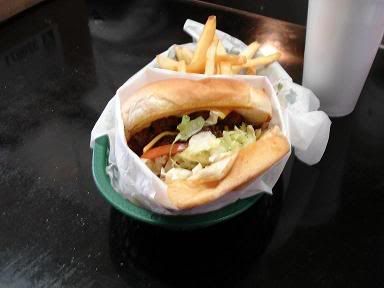 Handling
While neither small nor excessively large, the Dubl-R burger handles extremely well. I give it an overall rating of a 7.
Handling Rating: 7
Bling Bling
For the Double Double, Fries and Drink (unlimited re-fills), the total tab was $7.47 which in my estimation was a fair price and decent value given the quantity of food served. Anytime I think that a place such s Dubl-R does offer great value, I remind myself that there is no way I could walk into a Chili's or a TGI Friday's and receive a similar meal for that price. Also, in the spirit of the TBG mission, I feel it is imperative to remind everyone that one of the tenets of the TBG is to support the local businessman instead of the vast number of chain restaurants that have taken over America. As such, Dubl-R is a very fair value considering all factors.
Bling Bling Rating: 7
Overall Dubl-R Double Double Basket Rating: 6.3 Restaurant Review: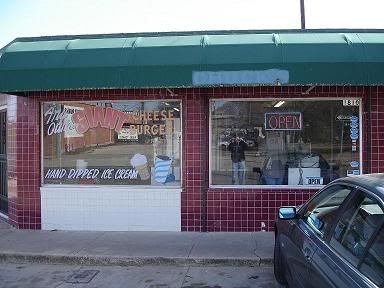 While not flashy, Dubl-R gets the job done. It is located in an older building so to the outside eye, it might appear as a bit of an eyesore and unkempt. But it really is anything but that. It has a very nice mom and pops feel to it and a corresponding atmosphere. It exists on many repeat customers. The staff is friendly and courteous. The staff has a very family feel to it – many props to a man only known as "Shine" to me. The owner/operator took an interest to my endeavor upon seeing me whip out my camera to snap pictures of the inside and outside. He did everything that could be asked of anyone to ensure my visit was a peasant one. I gave him the website address where this review would be posted so he could read it upon its completion. He even said that if I had a laptop, I could go ahead and post the review right then and there as he said they had wireless internet service inside the building.
The menu, shown in the below photo, has a nice selection of food for practically all tastes.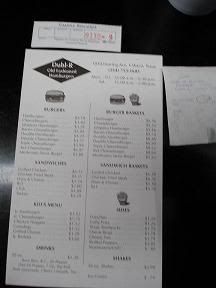 Dubl-R Old Fashioned Hamburgers Overall Rating: 7