Review #22: Bill's Cafe - Kingwood, Texas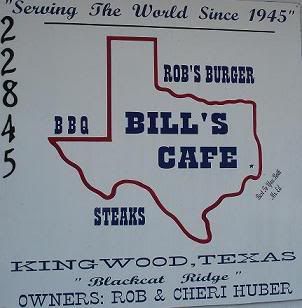 If you mapped out on a map all of the burger joints I have reviewed in Houston, you'd see several in Northwest Houston, some in the Galleria area, one or 2 close to downtown, south Houston, and some on the west side as well. There is nothing on the northeast side of town though... This changed today as I received a review request this week from a friend for a place up in Kingwood, which for all of you not familiar with Houston, is located on the far northeast side of Houston. This morning was absolutely wonderful weather wise so I packed up the kids and the wife and headed northeast to Kingwood. We found a gem of a burger joint in Bill's Cafe. Bill's is just a great place to hang out and have a really good burger.
IMPORTANT: If you haven't already, please read the Texas Burger Guy terminology post. That will help you understand the terminology I use in this review.

Bill's Cafe Cheeseburger
When somebody thinks about visiting Houston, 2 things they expect are heat and humidity. It's those 2 things that keep non-Houstonians from invading Houstonians. You definitely do not think mild temperatures and low humidity. Well... today we are having one of those picture perfect days.. when we left the house for Bill's - the temperature was in the mid 70's and there was next to zero humidity. Just a perfect day to sit outside and eat. I didn't know what to expect when we got to Bill's because I had never been there before but I was hoping they had a patio. I was VERY pleased when I saw that they have a really nice patio area complete with a sandbox for the kids to enjoy. Before we even received our food, we were already in love with Bill's Cafe. We had seen the inside of Bill's (that has LOTS of character by the way), placed our order with a very helpful waitress, and our kids enjoy themselves in the sandpit. All that was needed to make this day perfect was a big juicy burger and some greasy fries. Well... you gotta read on if Bill's delivered...

Oooze Factor
Upon seeing my burger surrounded by my onion rings, I just knew when I picked up the burger I'd be met by a greasy underside... that wasn't the case unfortunately. There was some grease but just not enough to score really high on the Oooze Factor scale. It was thick (more about that later) but not really dripping with grease...
Oooze Factor Rating: 4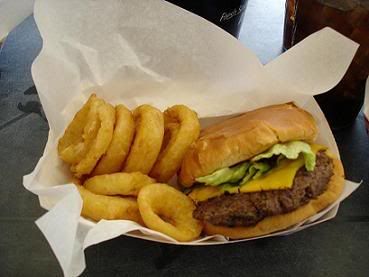 Click to enlarge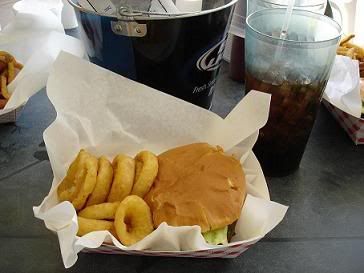 Click to enlarge

Herd Killer
Somewhere out there in the fields where the cows graze is a big sign that reads "Bovine Warning: Look out for Bill". Bill isn't afraid to stack on a slab of beef on his burgers. This thing was probably an inch thick in the middle. Very good size!!
Herd Killer Rating: 8

Handling
Bill earns high marks for Handling since the burger was huge. In addition to the meat were some very fresh lettuce and tomato. I despise pickles but Mrs. TBG had a ton of pickles on her Chicken Sandwich (see picture below). The bun was one of the big ones as well to cover the big slab of beef. All in all - a good size burger requiring every bit of 2 hands to manipulate.
Handling Rating: 8

Bling Bling
5.75 is all it will take to get you the burger and onion rings above. Not that bad because I left there full. Not so full that I had to unbutton anything on the way home... but full nonetheless.
Bling Bling Rating: 7
Gravedigger
Gravedigger is turning into the category that separates the men from the boys. Kitok's had a good burger but it didn't put the fear of the Almighty in me like Boondock's did. Bill's had a good thick burger but again - it just didn't leave me feeling scared for my life.
Gravedigger Rating: 3 Shovels





Overall Bill's Cafe Cheeseburger Rating: 7
Restaurant Review
I'm not sure if it was the perfect weather we were having today or what but I really enjoyed my visit to Bill's Cafe today. They have a great facility for just going and hanging out, having a burger, letting the kids play together, and even taking in a ballgame on the TVs in the patio and main restaurant areas. They will even let you bring your own wine since all they sell in the way of alcohol is beer. The food is really good... fries are phenomenal... service is great and the atmosphere is excellent...
Bill's Cafe Chicken Sandwich and Fries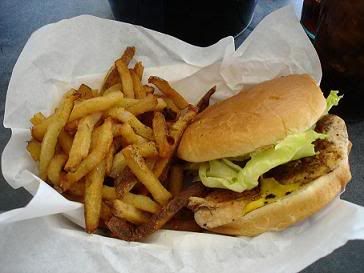 Click to enlarge
Restaurant/Atmosphere
If you go to Bill's Cafe and want to sit outside... do yourself a favor and atleast walk in the door in the main restaurant and take in the atmosphere. It's awesome!! There are probably hundreds of baseball caps nailed to the walls. Its quite the site to see all of those hats. Also - make sure you check out the chairs that are covered with dairy cow skins. (put the phone down PETA - it's not an actual hide - it's fabric) There is a bar if you want to have the traditional cafe experience. They also have tables inside as well. I've touched on the patio area already but suffice it to say this is one of the biggest draws for people like me. I knew before I ordered that I was going to get a good burger when I saw the no frills environment. I was not let down. The fries (pictured above) are the natural cut variety. They are excellent! Good seasoning. Onion rings are the slimy onion variety. If you like them that way - they are good. Not great - just pretty good. They give you a big glass for your coke which seems trivial but I love it that way. Another big plus is when you order chicken nuggets for the kids- they will ask you how many nuggets you want to order. This allows you to order just what your kids will eat instead of paying for 98 nuggets and only eating 3. All in all - Bill's Cafe was a great experience. We will be back...



Click to enlarge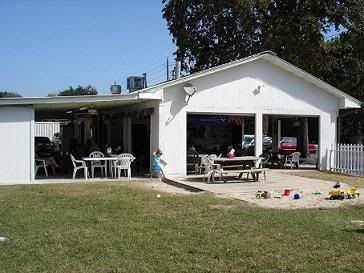 Click to enlarge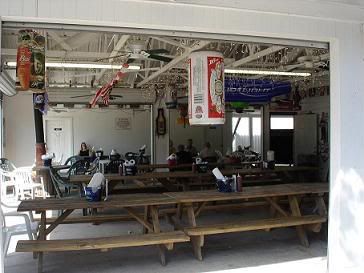 Click to enlarge

Directions
Kingwood is in far Northeast Houston. Its a nice drive down 59 to Kingwood. Bill's is pretty easy to find.
Address
22845 Loop 494
Kingwood, TX 77339
(281) 358-6198
TBG Overall Rating
Excellent place to hang out and have a burger! I hear their steaks are to die for as well. We will be back sometime soon I'm sure. Great environment - pretty good burger.
Overall TBG Rating for Bill's Cafe: 8